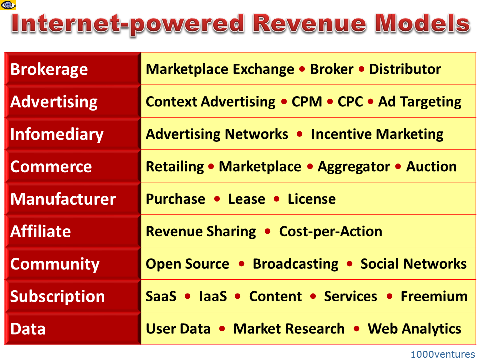 Top 10 Tips
High value for visitors: capture their attention, exceed their expectations, leave a positive impact in their mind and turn them into repeat visitors... More
Online Customer Engagement
Top 10 Tips
Believe in and understand the power of employee advocacy and the social media networks – today people trust more opinion leaders, than brands. Allow and help your employees become positive and effective brand advocates... More
Internet-powered Business and Revenue Models
Below are different business and revenue models which can be implemented on the Internet.
Selling Your Products / Services. Providing a → value-added and
→ differentiated product or service is one of the most traditional and successful revenue models.

Content marketing involves creating and posting free valuable content on various web sites online, while increasing exposure and awareness for your business, creating gratitude, building trust, and, ultimately, winning customers.
→ Social Media Marketing: 10 Tips
Premium Subscriptions. Charging a subscription fee for delivery provides a predictable income. It can take the form of a premium members only community, a premium email list, website with access to content, tutorials, support, and more.

Freemium is a pricing strategy by which a product or service (typically a digital offering such as software, media, games or web services) is provided free of charge, but money (premium) is charged for advanced features, functionality, or virtual goods.

Affiliate Marketing. Affiliate marketing is selling the products or services of another company and taking a commission on the sale... More

Contextual Advertising. The ads are served through a third party and are matched based on the content of your website or web page in which the advertisement appears. This revenue model requires little work. Your just add and modify a code of an existing web page. A third party will do all of the selling, billing and fulfillment for you.

Direct Advertising. This is the most traditional method which involves selling ad space directly to businesses on a monthly, impression based, or other direct agreement.
Many of these popular models can be combined or varied. → Experiment with all or some of them to develop your own unique winning combination.
→ Benefit from Your Competitors
Study your competitors from their website through their → sales process, including their past and ongoing marketing strategies, customer engagement, e-commerce, and customer retention practices so you know what works in your target market.