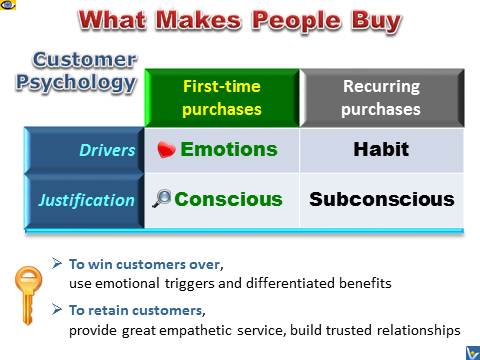 → Great Slogan: WOW Principle and 7 Features
First-Time Purchases
When people buy new products their buying decisions are usually driven by emotions and justified by logic. People tend to buy with their hearts and rationalize with their heads.
→ Selling Is Problem Solving
→ Sell Benefits

To win customers over, think behaviorally. How can you overcome your prospects' resistance to change, disrupt their old behavior, initiate a new desired behavior and turn it into a habit?
→ Differentiate your brand and product from competitors. Create a great brand appeal. Emphasize benefits, create a great unique selling proposition (USP), build credibility and trust, and use emotional triggers to achieve your goal.
For instance, colors, videos and music are strong emotional differentiators. According to the University of Loyola, Maryland, color increases brand recognition by a whopping 80%.
Psychological triggers are strong motivational factors that can evoke a sale. Some powerful psychological triggers are a guarantee of satisfaction, curiosity, opportunity, fear, and guilt. >>>
→ Empathetic Marketing