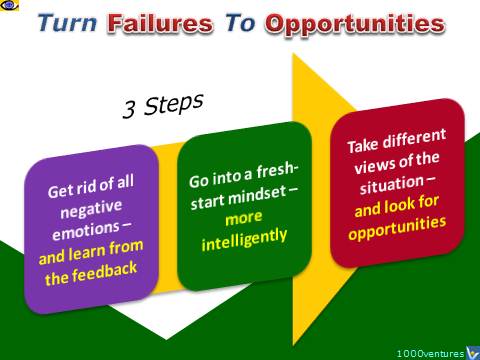 How To Turn Failures into Opportunities
The Three Steps
❶ Get rid of all negative emotions – and →learn: There is no failure, only → feedback! >>>
❷ Go into a fresh-start mindset – more intelligently: Given the situation you are in now as a starting point, consider various options: what opportunities for and a roadmap to ultimate success can you see or imagine?
❸ Take different views of the situation – and → look for opportunities: Having looked at the scene from your view, look at it from different → perspectives, try each of these views:
Turning Failures Into Opportunities
To profit from experience you must be open and willing to learn, even from what some people might consider a failure.
Failure is not something to be afraid of or to grieve about.
Failure is something to → prevent or to → benefit

from.
Don't have have a narrow and negative understanding of the meaning of failure. If you tend to hide from failures, you will never create breakthroughs and block valuable learning forward.
What may seem to be a failure can actually lead to new opportunities, especially if the knowledge acquired from the failed projects can be exploited.
→ Right learning questions can serve as a starting point for the assimilation of learning.
→ 6 Mindsets of a Great Achiever
Changing your → attitude is the key to finding success in seeming failure. "Optimistic thinking has sometimes gotten a bad rap as being unrealistic, but research has found that we can indeed live → happier, healthier, and → more successful lives if we can learn to discover opportunities in problems," says Charles C. Manz.2 These problems then become merely challenging opportunities that we can turn to our advantage.
| | | |
| --- | --- | --- |
| | Find the silver lining in every cloud. Setbacks aren't problems, they're opportunities. >>> | |
| | | |
| --- | --- | --- |
| | I have not failed 700 times. When I have eliminated the ways that will not work, I will find the way that will work. | |
| | | |
| --- | --- | --- |
| | Many costly Microsoft product failures provided the learning and opportunity for development of many of Microsoft's biggest successes. | |