Make adjustment to the wind
if you want your message to hit the target.
Perceptions Rule

How we generate information about the world is perceiving.

When new information is compatible with your knowledge structures it is accepted. When it does not mesh with your beliefs, past experience or pre-conceived ideas it is distorted, receives little consideration or is ignored altogether.

So, if you wish your message to hit the target, make adjustment to the wind.

→ Understand EGA of Your Audience
See yourself through the eyes of others if you want to be understood. See yourself through your own eyes if you want to disrupt the status quo.

Vadim
| | | |
| --- | --- | --- |
| | The bird thinks it is an act of kindness to give the fish a lift in the air. | |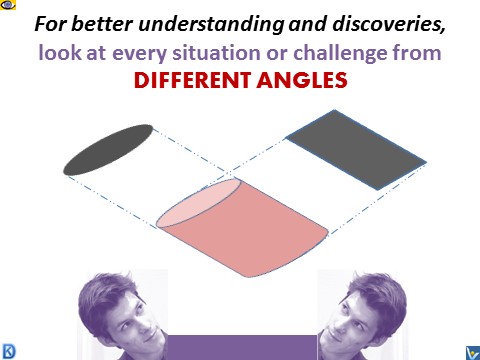 | | | | | |
| --- | --- | --- | --- | --- |
| | In the field of psychology, cognitive dissonance is the perception of contradictory information. | | | |
Business Is All About Perceptions

"To gain customer insights, we must understand that
we are prisoners of what we know and what we believe." ~ Mohanbir Sawhney

Business – → decision making, → communication,
→ negotiation, → leadership, → teamwork, → motivation,
→ value innovation, → differentiation, → marketing, etc. – is all about perceptions.

The essence of leading, → managing and → selling is coming to grips with people's perceptions.

"Perception is all there is..." says Tom Peters. "There is only one perceived reality, the way each of us chooses to perceive a communication, the value of a service, the value of a particular product feature, the quality of a product."
Selective Perceptions

Most of your judgments result from decisional shortcuts you use to generate solutions that are good enough most of the time. Your → subconscious mind scans your environment and selects what it deems may be important for you to notice. When you perceive a situation that looks familiar to you, your past experience causes you to see the event in terms of what you expect... More

This example is often used by educators when they talk about selective perceptions... More

→ How To Solve People Problems

Connecting with Senses

People have three basic methods of perceiving the world around them:

Visual (see the world)

Auditory (hear the world)

Kinethetic (feel the world).

Individuals have different preferred ways of thinking and communicating their experiences – some express themselves in pictures, others talk about how things sound to them, and others speak about how things feel. If you want to connect with your target customers, you have to figure out which sense they favor... More

Idea Evaluation: 4x2 Perceptual Positions

→ Smart & Fast Decision Maker

Perceptual positions can help you gain new understanding through seeing things from different perspectives... More
References:

"Thinking Outside the Comfort Zone," Jerry Sentell

"Selling with NLP," Kerry L. Johnson

"Making Better Business Decisions," Steve W. Williams

"Driving Customer Equity," Rust, Roland T., Zeithaml, Valarie A. & Lemon, Katherine E.

"A Passion for Excellence: The Leadership Difference," Tom Peters and Nancy Austin