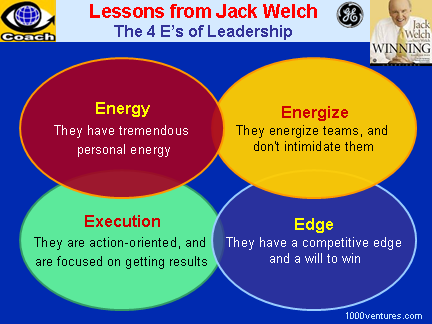 Six Things that Are Necessary for Good Team Leadership
Source: "The Wisdom of Tears", John R.Katzenbach & Douglas K.Smith
Keep the purpose, goals, and approach relevant and meaningful.

Build commitment and confidence.

Strengthen the mix and level of skills.

Manage relationships with outsiders, including removing obstacles.

Create opportunities for others.

Do real work.
IDEO's Innovation Practice Tips
Growing Need for Energized People
To cope with today's rapid change, organizations need energized people. "Open-book management, employee empowerment, continuous improvement, participative management, and self-directed work teams are all concepts that seek to energize employees by making them a more integral part of the workplace."2
Use Your Creative Energy
Don't follow the market, lead it. Use your creative energy to energize others.
"Creative energy whispers 'edge energy', the next collective movement and direction. No one can touch the true country and white light of inspiration for a false goal. You can't dive into the deep-down, belly place of pure creativity while peeking over your shoulder to monitor the preferences of strangers," advises Tama J. Kieves, a carrier coach and the author of This Time I Dance! Creating the Work You Love.
Inspire your team. Inspire, empower and energize people... More
Inspirational Leader: 10 Roles
Case in Point General Electric: Work-Out
At its core, Work-Out is a very simple concept based on the premise that those closest to the work know it best. When the ideas of those people, irrespective of their functions and job titles, are solicited and turned immediately into action, an unstoppable wave of creativity, energy, and productivity is unleashed throughout the organization. At GE, Work-Out "Town Meetings" gave the corporation access to an unlimited resource of imagination and energy of its talented employees... More
Inspiring People: 4 Strategies
What Does Creativity Brings To Your Life?
Summary of the interview of Linda Dessau with 17 creative artists
Creativity brings happiness, energy and power. Creativity is energizing, revitalizing, uplifting and motivating. It gives you joy, the impetus to push further, and a sense of power. It helps re-ignite your passion for your work and excites you into courageous action... More
Values-Based Leadership
Values-based leadership is about ideas and values. It is about understanding the different and conflicting needs of followers, energizing followers to pursue a goal than they had thought possible. "In practical business terms, it is about creating conditions under which all followers can perform independently and effectively toward a single objective."3... More