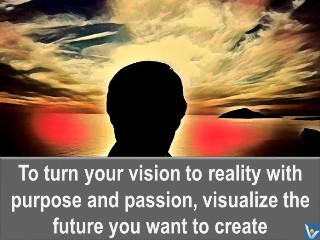 A Study on Creative Visualization in Sports
In one of the most well-known studies on Creative Visualization in sports, Russian scientists compared four groups of Olympic athletes in terms of their training schedules:
Group 1: 100% physical training;
Group 2: 75% physical training with 25% mental training;
Group 3: 50% physical training with 50% mental training;
Group 4: 25% physical training with 75% mental training.
Group 4, with 75% of their time devoted to mental training, performed the best.
Imagination and Creative Visualization
Imagination is your ability to create an idea, a mental picture, or a feeling sense of something
Creative visualization is using your imagination to create a clear image, idea or feeling sense of your → goal.
Creating Inevitable Success: 5 Steps
traveling the actual path will then become much easier

Vividly imagine that you have already

→

achieved your → goal, then walk back and examine the pathway toward your goal... More
Unlock Your → Creativity
By: Brian Tracy
Visualize Your Goals: Be clear about the goal, → be flexible about the process. → Think about it, visualize it as realized over and over. Project your mind forward to the picture of the realized goal and then look back to the present... More
How To Realize Your Dreams: 4 Principles
In the original Chicken Soup for the Soul, Jack Canfield tells the story of Monty, who was the son of an itinerant horse trainer of little means.
During his senior year he was assigned a writing project to describe what he wanted to be when he grew up. His seven-page essay minutely detailed the 200-acre ranch he wanted to own. It included a diagram of the ranch and a detailed floor plan of his 4,000 square foot home... More
→ Work Smart and Hard
Disney Creativity Strategy

Walt Disney was true genius at turning fantasies into reality.

→ Entrepreneurial Creativity: 4 Keys

Here is how Walt Disney describes his process for creating stories: "The story man must see clearly in his own mind how every piece of business in a story will be put. He should feel every expression, every reaction. He should get far enough away from his story to take a second look at it...to see whether there is any dead phase...to see whether the personalities are going to be interesting and appealing to the audience. He should also try to see that the things that his characters are doing are of an interesting nature."... More

Tom Watson, the Founder of IBM

Tom Watson, the founder of IBM, once described his secret to the unbelievable success he helped to create. The IBM you see today began from one simple technique. It is something you and I can do at any place and time. The same method Tom Watson used to grow IBM into a billion-dollar enterprise is available to you.

→ Achievement-focused Self-Coaching: 6W Questions

He saw a picture in his mind. Before his company began operating, he knew exactly what it would look like when it was complete. The picture in his mind was as vivid and clear as the words you see on the screen in front of you.

He could see the offices, the machines, the employees working busily accomplishing goals and setting new standards. He could see the satisfied customers as they shook hands with his associates. Tom Watson could see the office he would work from → making vital decisions to help his dream progress.
Tom Watson knew exactly what he was going to create. It was already real to him, he simply had to show the rest of the world what was in his mind. And it all began as a picture, a visualization.
Continuous Improvement Mindset
Imagine the ideal customer experience and strive to → provide it ... More
5 Rules of Self-motivation
Start with visualizing clearly your future success and model the feelings you'll experience when you achieve it... More
How To Make New Great Habits Stick
List key benefits of acquiring a new habit and visualize yourself enjoying these new benefits... More