Contents
1. Why Entrepreneurial Leadership?
Rapidly Changing Global Scenario See the slide
Knowledge-based Enterprise versus Industrial Enterprise
Entrepreneurial Organization: Challenges, Opportunities, and Strategies
Entrepreneurial Organization: 10 Characteristics and 5 Benefits
Entrepreneurial Leadership: Building Attributes and Delivering Results
2. What Entrepreneurial Leaders Do
Leader as an Entrepreneur: Ten Key Action Roles
Leadership-Management Synergy See the slide
Strategic Leadership: Generic Role and Main Functions
Results-based Leadership See the slide
The Four E's of Leadership
Why Change Fails See the slide
The Eight Stage Change Process
Making Big Changes: Ten Questions to Answer
3. Entrepreneurial Leadership Attributes
Leader as an Entrepreneur: Talent, Temperament, and Technique Synergy
Entrepreneurial Leaders: Specific Attributes
Entrepreneurial Creativity See the slide
Be Different and Make a Difference See the slide
Creative Problem Solving: Turning Problems Into Opportunities
Cross-functional Excellence
4. Inspiring, Energizing, and Empowering Employees
The Tao of Employee Empowerment See the slide
Lessons from Jack Welch: Energize Others See the slide
10 Roles of Inspirational Leaders
Freedom To Fail
Building a Team Culture
Ten Steps To Develop Entrepreneurial Staff
5. Opportunity-driven Business Development
Lessons from Jack Welch: See Change as an Opportunity
Strategy Pyramid vs. Strategy Stretch See the slide
Choosing Between Strategy and Opportunity Approach
Corporate Management vs. Venture Management
Strategic Achievement
Organizing Rapid Opportunity Search
Fast Company
Fast Decision Making: Establishing Corporate Guiding Principles
6. Leading Innovation
Create a Culture of Questioning
Radical Innovation
The Jazz of Innovation: 11 Practice Tips See the slide
Loose-Tight Leadership
Tips for Making the Vision a Reality
Sample Ten3 SMART Lessons (Slide + Executive Summary)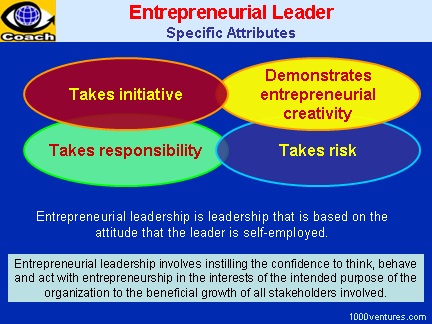 Entrepreneurial Leadership Defined
In the increasingly turbulent and competitive environment business firms face today, a new type of "entrepreneurial" leader distinct from other behavioral forms of managerial leadership is required. Entrepreneurial leadership is leadership that is based on the attitude that the leader is self-employed. Leaders of this type:
take initiative and act as if they are playing a critical role in the organization rather than a mostly important one and energize their people,

demonstrate entrepreneurial creativity, search continuously for new opportunities and pursue them,

take risk, venture into new areas and provide strategic direction and inspiration to their people,

take responsibility for the failures of their team, learn from these failures and use them as a step to ultimate success and strategic achievement.
Entrepreneurial leadership involves instilling the confidence to think, behave and act with entrepreneurship in the interests of fully realizing the intended purpose of the organization to the beneficial growth of all stakeholders involved.
Key Benefits
In the new era of rapid changes and knowledge-based enterprises, managerial work becomes increasingly a leadership task. Leadership is the primary force behind successful change. Leaders empower employees to act on the vision. They execute through inspiration and develop implementation capacity networks through a complex web of aligned relationships.
Entrepreneurial leadership is not a position, it is a process. The entrepreneurial leader takes responsibility to assist the organization in creating such conditions so that, instead of being controlled, the organization generates its own order and responds creatively to the environment. This role is not only more productive for the organization, it is liberating for the leader as well. By helping to unleash the creative potential of their organizations, entrepreneurial leaders are unleashing their own.
... and much, much more!