The Tao of Cleaner Production
and Waste Minimization

YIN (passive, accepting side). Outside-In: Green Procurement. Working with purchasing staff to identify suppliers that meet 'industry best practice' in cleaner production; ensuring that your suppliers meet certain environmental requirements

YANG (active, aggressive side). Inside-Out: Design for Environment. Working with process designing and production staff to select materials and/or processes that are less wasteful.
After materials are carried into the factory, nothing but products

should be carried out from it. >>>

Honda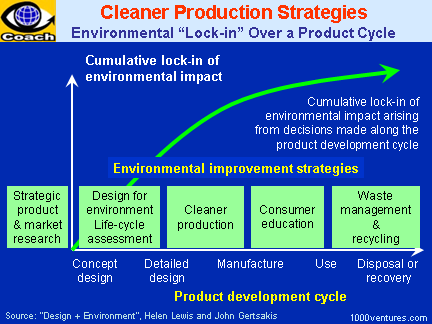 EcoDesign for Waste Minimization
EcoDesign Strategies for Waste Recycling
References:
Design + Environment, Helen Lewis and John Gertsakis

Industrial Ecology, Graedel, T.E., and B.R. Allenby

LCA and TCA as Tools for Measuring Green Productivity, Ik Kim and Tak Hur
Lean Manufacturing
Lean is about doing more with less: less time, inventory, space people and money. Lean manufacturing is, in its most basic form, the systematic elimination of 7 wastes – overproduction, waiting, transportation, inventory, motion, over-processing, defective units – and the implementation of the concepts of continuous flow and customer pull... More
Integrated Environmental and Quality Management System (EQMS)
A recent market study in the Netherlands initiated by The Dutch Technical Committee on Quality Management and carried out by the Netherlands Standardization Institute (NEN) in collaboration with Tilburg University TIAS Business School concluded that full integration between ISO 9001:2000 and ISO 14001 was possible and it was easiest for organizations that had structured their ISO 9001 Quality Management System together with their business processes and such integration could lead to valuable synergies... More
Ford Lio Ho, Taiwan established a Corporate → Synergy System (CSS) with its suppliers to enhance its overall corporate environmental performance. Ford Lio Ho has also requested that all of its suppliers become certified under ISO 14000.
The total investment in the Green Productivity Demonstration Programs (GPDP) options and corporate synergy projects was estimated to be US$ 15.6 million. The environmental benefits generated from these GPDP options during the second year are listed below and resulted in savings of US$ 6.8 million:
Raw materials consumption reduced by 8,000 tons;

Water consumption reduced by 58,000 tons;

Electricity consumption reduced by 8,900,000 kW;

General waste reduced by 1,000 tons;

Hazardous waste reduced by 290 tons; and

CO2 emissions reduced by 4,500 tons.