Contents
1. Corporate Venture Strategies
Achieving Top-line Growth and Bottom-line Results
Distinctive Features of Radical Innovation Projects
Radical Innovation vs. Incremental Innovation
Internal and External Ventures
Success Story: Spinouts of Thermo Electron Corporation
Success Story: In-company Ventures by Corning
Success Story: Corporate Venture Investing by GE Equity
Entrepreneurial Strategies and Skills
5 Critical Success Factors for New Ventures
2. New-to-the-World Product Development
Product Innovation: New Product Types
Success Stories: Challenging the Status Quo
Engaging Cross-functional Teams
Loose-Tight Leadership
12 Recommendations for Stimulating Radical Idea Generation
Make Decisions Quickly
Techniques for Fast Evaluation of Innovative Ideas
Innovation Football Simulation Game: Evaluating the Idea and the Team
Experimentation – the Key to Discovery
Keys to Successful Market Learning
A Different Role of Prototyping
Keeping Eyes Open for Inspiration
DOs and DON'Ts of a Successful Innovator
High-Growth Business Development Roadmap
3. Creating a Winning Business Model
Business Model: Connecting Internal Inputs to Economic Outputs
7 Elements of a Business Model See the slide
Success Story: Amazon.com – Creating Value and Competitive Advantage
The Tao of Customer Value Creation
Market Development Trend
Brand Building and Product Marketing
Success Story: Half.com – Innovative Buzz Marketing
Extended Enterprise
Core Competencies
Customer Partnership
Strategic Alliances
Innovative Revenue Models
Competitive Strategies See the slide
Differentiation Strategy: Three Parts and Four Steps
Weak and Strong Differentiation Strategies
4 Types of Marketing Warfare
Barriers to Market Entry
Sustainable Competitive Advantage: 5 Criteria
Sustainable Competitive Advantage: Synergy of Capabilities See the slide
4. Managing a Radical Innovation Project
Managing Innovation vs. Managing Operation
Radically New Product Development: Key Uncertainties and Discontinuities
Fuzzy Front End
Radical Innovation
Specific Skills of Radical Project Managers
Corporate Innovation System
Strategic Intent
Tips for Making the Vision a Reality
Creating a Relentless Growth Attitude
Innovation Process: Traditional vs. Flexible Model
Project Administration vs. Business Synergies Approach
Managing Innovation Projects: Business Synergies Approach
Leading Systemic Innovation: Empowering Cross-functional Teams
Best Practices: Cross-functional Innovation Teams at Quantum
Top-Line Success = Creative Chaos x Productive Structure See the slide
Best Practices: Attributes of Effective Innovation in Silicon Valley
Best Practices: Measuring Innovation by Silicon Valley Companies
Best Practices: Predictive Innovation Measures Used in Silicon Valley
Fast Company
Launching a Crusade
Establishing Corporate Guiding Principles
Owning Your Competitive Advantage
Strategies for Building a Growth Culture
Best Practices: Structure of Silicon Valley Firms
5. Entrepreneurial Leadership
Corporate Management vs. Venture Management
Building Attributes and Delivering Results
Entrepreneurial Leader: Ten Key Action Roles
Talent, Temperament and Technique Synergy
Lessons from Jack Welch: 4Es of Leadership
Specific Attributes of Entrepreneurial Leaders See the slide
Inspire Your Team
Lessons from Silicon Valley Firms: Getting the Most from Knowledge Workers
Making Big Changes: 10 Questions To Answer
10 Extreme Leadership Best Practices
Strategic Achievement
80/20 Strategic Thinking
Turning Failures into Opportunities
Inspiring People See the slide
Energizing People
Freedom to Fail
Lessons from Silicon Valley Firms: The Fun Factor
Best Practices: Silicon Valley Companies – Sharing Gain With Employees
Best Practices: Pre-IPO Company Ownership
6. Psychology of Achievement
Great Achiever: 8 Winning Habits
Yin-Yang of Achievement
Yin-Yang of Influencing People
Achievement-focused Self-Coaching
4 Powerful Attitudes
Take Risk
Never Give Up
7. Entrepreneurial Creativity
Entrepreneurial Creativity: 4 Intertwined Pillars
The Tao of Value Innovation See the slide
Be Different and Make a Difference! See the slide
Idea Evaluation: 4Χ2 Perceptual Positions
5 Steps to Entrepreneurial Creativity
Sample Ten3 SMART Lessons (Slide + Executive Summary)
Two Components of Sustainable Growth Strategy
Sustainable business growth strategy is a practical approach to achieving top-line growth and bottom-line results. The two main sources of sustainable competitive advantage are:
Continuous Improvement Culture: continuous effort to improve organizational climate and productivity of the core business in response to continuous changes in the marketplace.

Durable Corporate Venture Strategy: internal investment in innovation and new product/service development, new business creation, and external venture investing in new technologies and emerging markets.
Improvement Strategies versus Venture Strategies
Improving Processes: Addressing the ever-changing needs of current customers and keeping cash flow healthy. Cost-cutting efforts can build your bottom line.

Radical Innovation: It is radical innovation and new game changing breakthroughs that will launch your company into new markets, make you a market leader, enable rapid growth, and create high return on investment.
Continuous Change as a Norm
Companies, like any living organism, must become learning organizations that change and adapt to suit their changing environment. "If you don't practice the change management that looks after the future, the future will not look after you," says Bill Gates. "The tendency for successful companies to fail to innovate is just that: a tendency. If you're too focused on your current business, it's hard to look ahead."
Two Types of Change in the Marketplace
1. Organic, or continuous, change
2. Radical, or discontinuous, change driven by radical innovation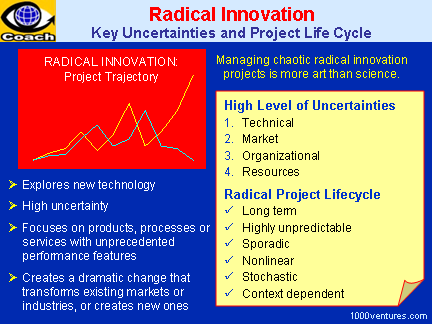 What is Radical Innovation?
Long-term corporate success linked to the ability to innovate. Although corporate investment in improvements to existing products and processes does bring growth, it is new game changing breakthroughs that will launch company into new markets, enable rapid growth, and create high return on investment.
Radical innovation, concerned with exploration of new technology, is fundamentally different from incremental innovation that is concerned with exploitation of existing technology. Radical innovation is a product, process, or service with either unprecedented performance features or familiar features that offer potential for significant improvements in performance and cost. It creates such a dramatic change in processes, products, or services that they transform existing markets or industries, or create new ones.
Fuzzy Front End
The early stage of the radical innovation process is ripe with opportunity, but it is also devoid of many definitive facts. Due to its high degree of ambiguity, this development phase has become known as "the fuzzy front end."
New Management Approaches
New competencies are required to address the challenge of radical innovation project management. High levels of uncertainties - technical, market, organizational, and resources - create extraordinary challenges for project management. The problem of multiple dimensions of uncertainty is complicated by the fact that the uncertainties interact with one another. "For radical projects to mature, uncertainty must be reduced on all four dimensions. At the same time, if you try to eliminate all uncertainty and control every risk, you'll find yourself frozen in place, never doing anything new." (Christopher Meyer)
There is practical value in understanding the patterns in and the differences between evolutionary incremental innovation projects and revolutionary radical innovation projects. This understanding can help you apply right management practices to different types of innovation projects and make the course of radical innovation shorter, less sporadic, less expensive, and less uncertain.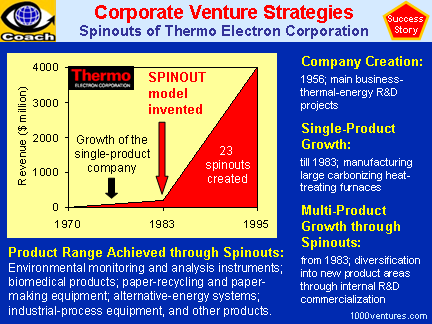 ... and much more!