Make SWOT analysis. As soon as you join/start a company, make a list of strengths and weaknesses of yourself and your company on a piece of paper... More
Entrepreneurial Creativity
5 Action Areas
Personal Development

Building Enterprise

Discovering and Pursuing Opportunities

Effective Competing

Winning Customers... More

Buzz Marketing: Success Story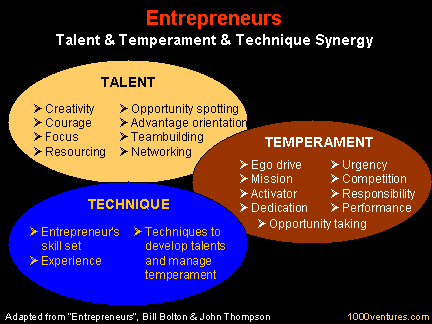 10 Golden Rules for Successful Carriers
12 Reasons Why Companies Fail

B

y Terry Collison
Inadequate planning of the business

Inadequate planning of the business

Inadequate planning of the business

Insufficient initial capital for the start-up period and development stages due to inadequate planning... More
Seven Sources of Entrepreneurial Opportunities
Internal
7 Characteristics of Successful Entrepreneurial Firms
By: NBIA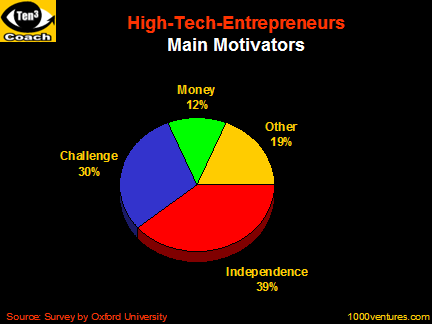 SWOT Analysis
Questions To Answer
What is your strongest business asset?

What do you offer that makes you stand out from the rest?

Do you have any specific marketing expertise?... More
The Customer is King. Define the business of the enterprise in terms of what is to be bought, precisely by whom, and why. Avoid disaster by testing the market prior to development of a product... More
What Is Entrepreneurship?
Entrepreneurship is first and foremost a mindset. It is the art of finding creative profitable solutions to problems.
Every successful entrepreneur, every successful businessperson has been someone who's been able to identify a problem and come up with a solution to it before somebody else did.
Who Is the Entrepreneur?
Entrepreneur is a person who habitually creates and innovates to build something of recognized value around perceived opportunities.1
In this definition, all words are key words:
'Entrepreneur' – can be an individual entrepreneur, but also an entrepreneurial team or even entrepreneurial organization

'A person' – emphasizes a personality rather than a system

'Habitually' – just cannot stop being an entrepreneur

'creates' – starts from scratch and brings into being something that was not there before

'innovates' – able to overcome obstacles that would stop most people; turns problems and risks into opportunities; delivers - sees ideas through to final application

'Builds something' – describes the output of the creation and innovation process

'Of recognized value' – encompasses economic, commercial, social, or aesthetic value

'Perceived opportunities' – spotting the opportunity to exploit an idea that may or may not be original to the entrepreneur; seeing something other miss or only see in retrospect1
What Entrepreneurs Are Like?
Source: Entrepreneurs, Bill Bolton and John Thompson
Personality factors

born/made ratio – 50/50, a synergy of genetic and environmental influence

motivation and emotion – independence, competitive spirit, challenge, wealth

behavioral characteristics – perseverance, determination, orientation to clear goals, need to achieve, opportunity orientation, creativity, persistent problem-solving, risk-taking, integrity, honesty, internal locus on control

personality attributes – preferred styles: extrovert/introvert; sensor/intuit; thinker/feeler; and judger/perceiver
Environmental factors

family background – entrepreneurial heritage

age and education – begin entrepreneurial activity early; are not over-educated

work experience – most entrepreneurs first gain some work experience in the line of business they later start up

Action factors
The Critical Role of Your Business Model
Business model converts innovation to economic value for the business. The business model spells-out how a company makes money by specifying where it is positioned in the value chain. It draws on a multitude on business subjects including entrepreneurship, strategy, economics, finance, operations, and marketing... More
The Art of Innovation: 9 Truths
By: Guy Kawasaki
Break down the barriers. The way life should work is that innovative products are easy to sell. Dream on. Life isn't fair. Indeed, the more innovative, the more barriers the status quo will erect in your way. Entrepreneurs should understand this upfront and not get flustered when market acceptance comes slowly. I've found that the best way to break barriers is enable people to test drive your innovation: download your software, take home your hardware, whatever it takes.... More
DOs and DON'Ts of a Successful Innovator
By: Peter Drucker
DOs: Start small – try to do one specific thing...
DON'Ts: Don't undershoot, or you will simply create an opportunity for competition... More

Value Innovation
Successful Innovation
Growth Strategy:
"
Innovation
is the specific instrument of entrepreneurship. The act that endows resources with a new capacity to create wealth."
– Peter Drucker.
..
More
Case in Point Steve Jobs
Steve Jobs was one of the most successful entrepreneurs of our generation. His success story is legendary.
Put up for adoption at an early age, dropped out of college after 6 months, slept on friends' floors, returned coke bottles for 5 cent deposits to buy food, then went on to start Apple Computers and Pixar Animation Studios.
On June 12th 2005, Steve Jobs gave the commencement address at Stanford University. He revealed the two secrets of his great success:

Innovation Is Love
Venture Financing
Obtaining venture funding is one of the biggest challenges for the entrepreneur in a company's early stage.

Steps of the Venture Financing Process
Technology ventures demand an unbroken financing chain, from pre-seed capital to stock market. The financing chain is no stronger than its weakest link.
High-tech start-ups usually go through multiple funding rounds. Equity financing conventionally follows the below trajectory:..
More
Find a New Business Idea
"How do you find a new product or service, recognizing that 80 percent or more will be new in five years? Here's a series of ideas. Number one, begin with yourself," advises Brian Tracy. "Begin with your own talents, your abilities, your experience, knowledge, interest, background, education, and so on. Look carefully at your current work, your current business, your current position, or your current product or service. Seek for what is called your own acres of diamonds. Look under your own feet."...
More
Two Rules for Business Start-Ups
Entrepreneurship is the art of finding profitable solutions to problems. Every successful entrepreneur, every successful businessperson has been a person who has been able to identify a problem and come up with a solution to it before somebody else did. Here are the five rules for entrepreneurship...
More
7 Simple Steps to Small Business Success
Many businesspeople achieve their greatest successes in unexpected areas. They begin a business and then they find that it isn't as profitable as they had anticipated, so they change direction, using their experience and their momentum, and strike paydirt in something else. The most important thing is to begin. To take action. To move forward one step at a time, learning and growing as you go. There is enough information available in virtually every field for you to become knowledgeable enough to achieve success. But action is necessary....
More
The Complete A to Z Plan for Business Success
By: Brian Tracy
Here's why most businesses fail:
Lack of money – you don't have enough to get started and grow

Lack of knowledge – you don't know what you're doing

Lack of support – you're not able to get the support of other people and sell them on your ideas... More
Guidelines for Getting (and Keeping) Funding in Today's Market
More