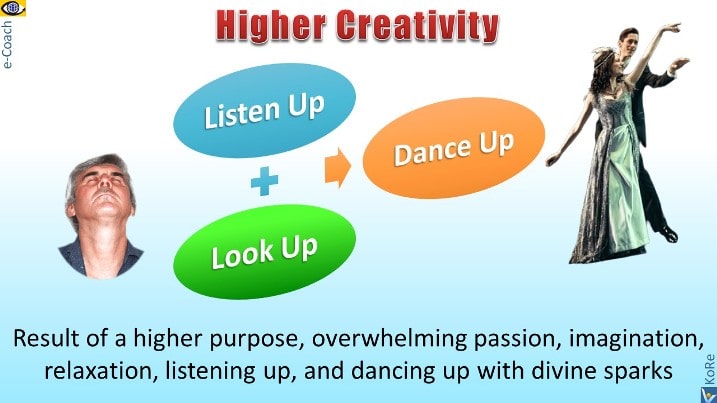 Higher Creativity and Divine Sparks
Higher-creativity ideas happen as a result of a higher purpose, overwhelming passion, imagination, visualization, relaxation, listening up, and dancing up with divine sparks and insights.
Divine sparks are relentless messages from the Universe as well as the portion of the Loving Creator that resides within each human being. Your sense of your higher purpose and your overwhelming passion reestablish your connection with the Loving Creator within yourself and enable the Divine Spark to be released from its captivity in matter.
Listen Up and Look Up
Your belief in your higher purpose fueled by your true passion is the foundation of your higher creativity. Believe in your immense ability to create and deflect anything that diminishes your sense of your higher purpose. Listen up for the messages from the Universe and look up for the divine light and insights. Be open to higher ideas and experiences. Practice listening up and looking up consciously for a while until these behaviors become a subconscious habit and run on autopilot.
Dance Up with Divine Sparks
Play, experiment, and dance up with the divine sparks, inspirations and insights you gain. Every step up will open new exciting horizons. Record all significant ideas so you could revisit them later, look at them with new eyes, gain new sparks of inspiration, and move to a higher level of creation.