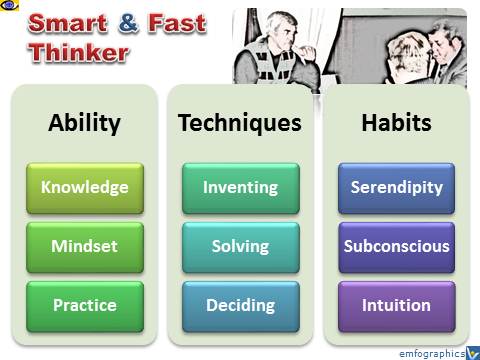 KoRe 10 Tips for Smart and Fast Thinking
① Have a grand noble vision of the future you want to create – it will serve you subconsciously as a lodestar when you need to think fast.
② Increase both depth and width of your knowledge, build your cross-functional expertise – the more you know the faster and better you connect diverse ideas.
③ Be determined and believe in your ability to think fast. Adopt an open-minded attitude and maintain good emotional health.
④ Practice fast thinking continually to keep your thinking muscles elastic. Undertake activities that promote fast thinking, do online reflex tests, play simulation, improvisation or fun games that improve creativity and reaction times.
⑤ Master various inventive thinking techniques. Use innovative thinking tools that speed up the creative process.
⑥ Think positively. Treat failures and problems as opportunities to make new discoveries, invent new solutions and find new ways.
⑦ Apply and master fast decision-making techniques such as Guiding Principles, 80/20 Principle, Weighted Criteria or 4×2 Perceptual Positions.
⑧ Develop serendipity – a joyful habit to make accidental discoveries continually.
⑨ Engage your subconscious mind that works millions of times faster. Alternate brainstorming with brainstilling to turn your subconscious mind on.
⑩ Trust your intuition. Your first intuitive impression is usually correct. Make it a habit to listen to what your inner voice says.