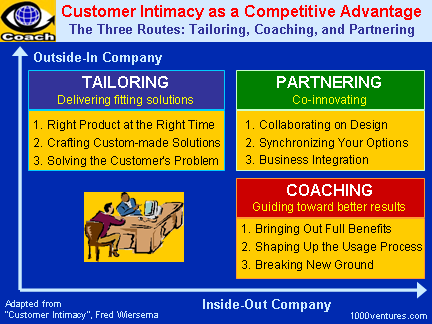 Three Models of Tailoring1
Providing the Right Product at the Right Time: through aligning your business to your customers' specific needs; or through alternative tactics, such as virtual sourcing.

Crafting Custom-made Solutions: adapting the core product, or building solutions from the ground up.

Taking the Customer's Problem Away: assuming the duties that trouble your customer.
Case in Point GE Adapts Its Billing System to Wal-Mart's System
Source: Roads to Success, by Robert Heller
The application of Six Sigma was crucial to ending the dissatisfaction of GE Lighting's biggest customer – Wal-Mart.
The billing system between GE and the retail giant Wal-Mart was malfunctioning. Faced with disputes, payment delays, and a dissatisfied customer, GE realized that its system required adapting to Wal-Mart's system and needs. Six Sigma was put to work, backed by some IT improvements and US$30,000 in investment. Within four months defects came down by 98%. Wal-Mart became much happier and GE Lighting earned back its investment many times over... More

Customer Care

Value Innovation

Selling Is Problem Solving
Case in Point Dell Computers
"When you've got a large market opportunity facing you, the only way to handle it is to divide and conquer," says Michael Dell, the Founder of Dell Computer Corporation.3 "That's the basis behind our concept of segmentation. It ensures that as we grow, we are able to serve each individual customer more effectively, and it has become the organizing philosophy of our company.
"Most companies segment by product. We decided also segment by customer. We believe that a customer's unique needs and behaviors more closely determine what products and services we should develop for them. And because Dell sells directly to our customers, understanding the unique needs of each customer allows us to address them better.