Contents
1. Core Competencies
Main Characteristics and Benefit
Competitive Advantage: The Three Parts
Sustainable Competitive Advantage: Five Criteria
Sustainable Competitive Advantage: Resource-based View
2. Distinctive Capabilities and Their Synergy
Sustainable Competitive Advantage: Synergy of Capabilities
Results-based Leadership as a Distinctive Capability
SuperLeadership
Building a Team Culture: 10 Action Areas
Winning Team
Inspiring Corporate Culture
Intellectual Assets – the Major Value Driver
Knowledge as a Source of Competitive Advantage
Knowledge Management for Competitive Advantage
Harnessing the Power of Diversity
Intellectual Asset Management
Strategic Alliances
Discover and Build Synergies
3. Customer-focused Competencies
System Approach to Marketing and Selling
Customer Care
Customer-driven Innovation
Strategic Brand Management
Service-Profit Chain
Customer Intimacy
4. Dynamic Strategy
Resource-based Model of Above-average Returns
Dynamic Strategy: Four Steps
Competitive Strategies
Erecting Barriers to Entry
5. Continuous Innovation
Systemic Approach to Innovation
Leading Systemic Innovation Process
Create a Culture of Questioning
The Jazz of Innovation: 11 Practice Tips
6. Organization and Processes
Balanced Organization: 5 Basic Elements
Sustainable Innovation Organization
Learning, Teaching, and Coaching Organization
Trust as a Source of Competitive Advantage
Fast Company
Fast Idea Evaluation Techniques
Continuous Improvement Culture: Kaizen Mindset
Extended Enterprise
Owning Your Competitive Advantage
Sample Smart & Fast Lessons
Slide + Executive Summary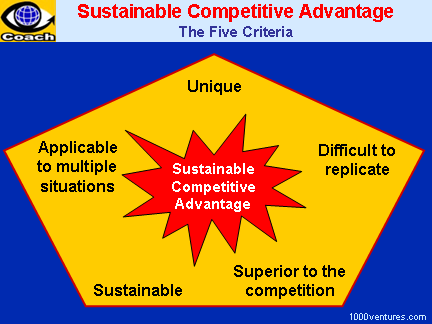 Sustainable Competitive Advantage Defined
Sustainable competitive advantage is the prolonged benefit of implementing some unique value-creating strategy based on unique combination of internal organizational resources and capabilities that cannot be replicated by competitors.
Sustainable competitive advantage allows the maintenance and improvement of the enterprise's competitive position in the market. It is an advantage that enables business to survive against its competition over a long period of time.
Sustainable Competitive Advantage: the Focal Point of Strategy
Managers should be committed to creating economic value to their stakeholders, and the best means to create that value is to focus on sustainable competitive advantage as the key.
The Five Criteria of Sustainable Competitive Advantage
1. unique
2. difficult to replicate
3. sustainable
4. superior to the competition
5. applicable to multiple situations
Case in Point: Warren Buffet's Investment Criteria
When asked what is the most important thing he looks for when evaluating a company to invest in, without hesitation, Warren Buffet replied, "Sustainable competitive advantage. It is the future growth and prosperity of the company, not its current price, that is most important. A company's prosperity, in turn, is driven by how powerful and enduring its competitive advantages are." Sustainable competitive advantage gives a company the edge that keeps competitors at bay and reap extraordinary growth and profits. "The key to investing is determining the competitive advantage of any given company and, above all, the durability of that advantage. The products or services that have wide, sustainable moats around them are the ones that deliver rewards to investors."

and much more!