Contents
1. Business Architect: Core Tasks and Skills
The Tree of Business See the slide
Intellectual Assets – the Major Value Driver in the Modern Economy
Building a Sustainable Growth Business: 10 Rules
The Wheel of Business Evolution
Discovering and Building Synergies
Business Architect: Cross-functionally Excellent Business Development Expert
Business Architect: Cross-functional Expertise Requirements
Building Your Cross-functional Excellence
Systems Thinking
Process Thinking
80/20 Strategic Thinking
Asking Searching Questions
4 Levels of Problem Solving See the slide
Techniques to Develop Creative Solutions: The Flow of Ideas
Leading Change: 8-Step Process
Making Effective Presentations
Effective Negotiating
2. Balancing Your Business System
Balance – a Key Element of a Sustainable Business
Business Model: 6+1 Components See the slide
Business BLISS: Balance, Leadership, Innovation, Synergy, Speed
Balanced Business System See the slide
Balancing Dynamic Organizational Dichotomies
Balancing Outside-In and Inside-Out Strategies
The Tao of Effective Management
Management by Consciousness
Generic Components of a Healthy Company
Success Story: GE – Creating the World's Most Competitive Enterprise See the slide
8 Best Practices of Successful Companies
Business BLISS
The Tao of Customer Value Creation See the slide
Success Story: Amazon.com – Creating Customer Value and Competitive Advantage
Building an Effective Value Chain
Leveraging Your Service-Profit Chain
Extended Enterprise
Core Competences
Strategic Alliances
Business Process Outsourcing (BPO)
Virtual Integration: 3 Action Areas
Customer Partnership
The Tao of Business Success See the slide
3. Developing Sustainable Growth Strategies
Building a High-Growth Business: Tasks at Different Stages
Three Hierarchical Levels of Strategy
Strategy Pyramid vs. Strategy Stretch See the slide
Choosing Between Strategy and Opportunity Approach
What Is More Important: Plan or Planning?
Business Evolution and Growth Strategies
GE Multifactor Business Portfolio Matrix
Success Story: Bunsha – Growing Business through Spinouts
Corporate Growth Strategies
Resource-based Model of Above-average Returns
Corporate Capabilities
Three Levels of Business Intelligence System
Achieving Bottom-line Results and Top-line Growth
Blue Ocean Strategy vs. Red Ocean Strategy
Competitive Strategies See the slide
Lessons from Jack Welch: Strategic Analysis – 5 Questions To Answer
Sustainable Competitive Advantage: Resource-based View
Sustainable Competitive Advantage: A Synergy of Capabilities See the slide
Owning Your Competitive Advantage
Strategic Brand Management
Customer-focused Strategies See the slide
Customer Intimacy
Lessons from Dell Computers: Segmentation by Customer
Internal and External Ventures
Success Story: Spinouts of Thermo Electron Corporation
Success Story: In-company Ventures by Corning
Success Story: Corporate Venture Investing by GE Equity
4. Leading Empowered Employees and Orchestrating Talents
Effective Leadership: Attributes × Results
25 Lessons from Jack Welch
Lessons from Jack Welch: Involve Everybody
Building a Team Culture
Lessons from Jack Welch: Make Everyone a Team Player
Managing Knowledge Workers
Lessons from Jack Welch: Articulate Your Vision
Lessons from Dell: Mobilize Your People Around a Single Goal
Lessons from Jack Welch: Stretch See the slide
Energizing Employees
Lessons from Jack Welch: Make Business Fun
Lessons from Jack Welch: See Change As an Opportunity
5. Building a Winning Organization
Shift from Industrial to Knowledge-driven Organization
9 Signs of a Loosing Organization See the slide
Yin and Yang of a Winning Organization See the slide
Best Practices: Matsushita 7 Core Principles of Management Philosophy See the slide
Organizational Fitness Profile (OFP)
Managing Organizational Change: The Wheel of Business Evolution
Building Top Management Team
Adaptive Organization
Inspiring Culture See the slide
Success Story: British Petroleum
Entrepreneurial Organization
Innovation-friendly Organization See the slide
Lessons from Jack Welch: Eliminate Boundaries
Best Practices: Shift to a Matrix Organization at British Geological Survey (BGS)
Lessons from Jack Welch: Put Values First See the slide
Shared Values
New Company-Employee Partnership
Manager-Employee Motivation Index
Employee Empowerment: 3 Levels
Flat Organization: Divisional Structure
Success Story: British Petroleum – a Federation of 100 Business Units
Harnessing the Power of Diversity: Creating Cross-Functional Teams
Best Practices: Silicon Valley – Sharing Gain With Employees
Best Practices: Pre-IPO Company Ownership
The Wheel of Knowledge Management: 5 Sectors
Best Practices: Knowledge Management at British Petroleum (BP)
Leveraging Diversity
Coaching Culture
Fast Company
Lessons from Jack Welch: Live Speed
Corporate Guiding Principles
Best Practices: Lend Lease's Guiding Principles
Lessons from Jack Welch: Simplify
Lessons from Jack Welch: Get Rid of Bureaucracy
Lessons from Dell: Developing the Fast-paced Flexible Culture
Lessons from Jack Welch: Behave Like a Small Company
Lessons from Jack Welch: Cultivate Leaders
Best Practices: Leadership Development at GE
6. Synergizing Processes, Efficiency and Quality Improvement
The Tao of Business Process Innovation
Process Management: Shift to Cross-Functional Paradigm
The Payoffs of Process Approach to Business
Process Thinking
8 Essential Principles of EBPM
Cross-functional Management (CFM)
Aligning Information Technology (IT) and Business
Selecting the Right IT Architect: 11 Traits of a True IT Leader
Business Model Innovation: New Roles of the IT Leader
Continuous Improvement Firm (CIF)
Different TQM Practices in Japan and the West
Best Practices: Toyota Production System (TPS) See the slide
Continuous Improvement Culture: 8 Key Elements
7. Developing Corporate Innovation System
Lessons from Jack Welch: Constantly Focus on Innovation
Sustainable Innovation – The Key To Survival and Success
The Tao of Value Innovation See the slide
Managing Operations vs. Managing Innovation
Systemic Approach to Innovation: 7 Interwoven Areas See the slide
Managing Innovation by Cross-functional Teams
Corporate Innovation System: 5+1 Components
Strategic Alignment
The Tao of Intellectual Cross-pollination
Best Practices: Characteristics of Most Successful Companies
Product Innovation: New Product Types
Radical versus Incremental Innovation
Best Practices: Using Innovation Portfolio by Silicon Valley Companies
The Jazz of Innovation: Creative Chaos Within a Structure See the slide
The Jazz of Innovation: Key Elements
Intellectual Property Management (IPM)
Innovation Process: Modern Business Synergies Approach
Best Practices: Attributes of Effective Innovation in Silicon Valley
Measuring Innovation: Benefits, Role, and Practices
Creating a Relentless Growth Attitude: 5 Guiding Principles
Sample Ten3 SMART Lessons Slide + Executive Summary
Why Business Architect?
In today's knowledge- and innovation-driven complex economy, business architects are in growing demand. They are cross-functionally excellent people who can tie several silos of business development expertise together, create synergies, design winning business model and a balanced business system and then lead people who will put their plans into action.
Business Architect Defined
Business architect is a person that initiates new business ventures or leads business innovation, designs a winning business model, and builds a sustainable balanced business system for a lasting success.
Business architects can be found in a multitude of business settings: corporate change leaders, initiators of joint ventures, managers of radical innovation projects, in-company ventures, spin-outs, or new start-up ventures. Although the settings in which business architects act are different, they all design and run a new venture to achieve its sustainable growth.
Integrated Approach to the Management Process
The integrated business systems approach to business development and the management process is what distinguishes modern cross-functionally excellent business architects from functional managers. As a business architect and an extremely effective leader, you must have a broad view to be able to link together – synergistically! – the key components of corporate success – from functional planning to cross-functional cooperation, from supply chain management to customer value creation, from the art of continuous learning to the practice of effective communication and influencing people – and bundle them in an intellectual, innovative and pragmatic package that can be used to achieve sustainable competitive advantage and business growth, both top-line and bottom-line.
Inclusive Approach
At the heart of the inclusive approach is the belief that understanding stakeholder needs – the needs of customers, employees, suppliers, shareholders and society, and the environment – and incorporating them into enterprise strategy and sustainable value creation activities are central to the achievement of sustainable growth and competitiveness.
Why Do You Need Cross-Functional Excellence?
Although innovation is driven by technology, required competence extends beyond technical know-how. In the new knowledge economy and knowledge-based enterprises, systemic innovative solutions arise from complex interactions between many individuals, organizations and environmental factors. The boundaries between products and services fade rapidly too. If you wish to be a market leader today, you must be able to integrate in a balanced way different types of know-how that would transform stand-alone technologies, products and services into a seamless, value-rich solution.
Learn Playing More Than One Note
If you learn not one, but the whole spectrum of notes, you will not have to play mono-tone music all the time. Your will discover much more opportunities and, by engaging your lateral thinking, self-motivation, and systems thinking arts and skills, create great symphonies and improvise whenever necessary. You'll know how to transform stand-alone ideas, technologies, products and services into value-rich solutions.
Managing Knowledge
The explosion of knowledge growth, combined with its rapid distribution, makes it difficult to stay on top of the available knowledge in any industry. Thus, a global knowledge economy rewards not only creators of new knowledge but also those who can identify and integrate knowledge effectively.
Case in Point: Nurturing Cross-Functional Experts at Hewlett-Packard
Most companies tend to recruit, train and promote people within functional corridors. But Hewlett-Packard (HP) breaks the walls, creating a carrier network that begins with the recruitment of diverse people in terms of their skills and personality and then promotes horizontally, as well as vertically throughout the company. Typically, HP employees move through four to six functional areas in the course of their carriers. This creates broad knowledge of the company and fosters the kind of teamwork other companies covet. When it comes time to promote, managers don't look who is next down the carrier line, they look for the best people. Neither employees should follow a pre-defined path to a particular post, nor need they to get a bigger title to be given new responsibility.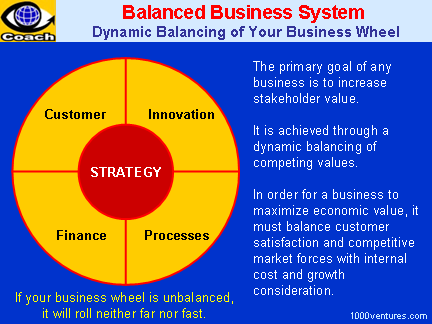 Achieving Strategy through Balancing Competing Values
The primary goal of any business is to increase stakeholder value. It is achieved through a dynamic balancing of competing values. In order for a business to maximize economic value, it must balance customer satisfaction and competitive market forces with internal cost and growth consideration.
What is Business Systems Approach?
A business is more than finance. Organizations prosper by achieving strategy that is implemented as a result of continuous decision-making at all levels of the business. Performance measures need to be aligned with the organization's strategy. The Business Systems approach considers business as system of interrelated factors of strategy, owners, investors, management, workers, finance, processes, products, suppliers, customers, and competitors.
Balancing the Four Perspectives
Firms implement strategy through balancing the four major factors or perspectives:
Financial perspective: To succeed financially, how should we look to our shareholders?

Customer perspective: To achieve our vision, how should we appear to our customers?

Internal business process perspective: To satisfy our shareholders and customers, what business processes must we excel at?

Learning, innovation, and growth perspective: To achieve our vision, how will we sustain our ability to create value and improve?
The four perspectives permit a balance between short-term and long-term objectives, between outcomes desired and the performance drivers of those outcomes, and between hard objective measures and soft subjective measures.
For each of the above four questions, provide answers in terms of:
Objectives

Measures

Targets, and

Initiatives
... and much, much more!