→ Entrepreneurial Leader: 4 Attributes

Change, and leadership through change, are foremost concerns of CEOs today.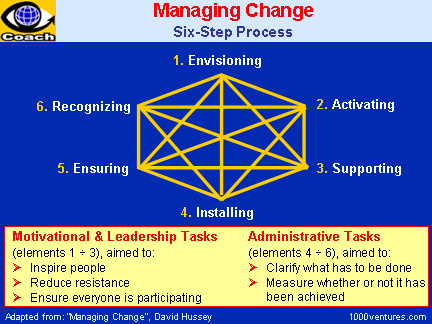 Leading, Not Managing
The amount of change in organizations has grown tremendously in the past, and the rate of change will only accelerate in the future.
Twenty-first century business change must overcome overmanaged and underled cultures. Because management deals mostly with the status quo and leadership deals mostly with change, we are going to have to try to become much more skilled at creating leaders. >>>
Granted, managing change is important. Competent management is required to keep change efforts on track. But for most organizations, the much bigger challenge is leading change. Only → leadership can blast through the many sources of corporate inertia. Only leadership can motivate the actions needed to alter behavior in any significant way. Only leadership can get change to stick, by anchoring it in the very culture of the organization.
John P. Kotter advises those who would implement change to foster a sense of urgency within the organization. "A higher rate of urgency does not imply everpresent panic, anxiety, or fear. It means a state in which complacency is virtually absent."
Leadership, John P. Kotter stresses cannot be confined to one larger-than-life individual who charms thousands into being obedient followers. Modern organizations are far too complex to be transformed by a single giant. The leadership effort must have support from many people who assist the leadership agenda within their sphere of activity... More