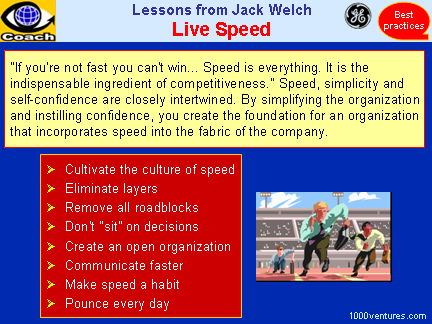 Make speed a habit


Incorporate speed into every activity and process. Decrease control: as control decreases, speed increases, and vice versa.
Cultivate the culture of speed
"Speed is the indispensable ingredient in competitiveness... Speed keeps businesses – and people – young." Speed exhilarates and energizes. It's addictive, and it's a taste you need to cultivate.
Eliminate layers
Delayering speeds communications and helps to get → new products

and services to markets more quickly.

Remove all roadblocks
The world is becoming more information-intensive, and decision-making and quick responses are indispensable weapons. And in future, change will be even quicker. "The old advantages of patience, paternalism, and respect for tradition are now hurdles in a world that is rapidly changing." Anything that slows your company down must be removed. Eliminate bureaucracy, make informal a way of life, and → empower employees.
Don't "sit" on decisions


Don't set something aside instead of making a decision on the spot. In order to get speed, real speed, decisions at virtually every level have to be made in minutes, not days or weeks. >>>

Create an open organization
"Speed is the product of an open organization. Enormous energy and the ability to → energize others is one of our critical values. Involve everyone and move quickly. If you can't come to a fast decision, and you can't get everybody in the game quickly, then you don't have the right → values. Being a brilliant administrator is not enough. You've got to excite people. Get them going."

Communicate faster


Make your messages simple and informal. Be focused and consistent. Remove constraints blocking communication between senior and junior levels of your organization, between product groups, across functions, and across geographic and → cultural

lines.
Pounce every day
"Leave no stone unturned. Live urgency. Don't waste time. There is simply not a moment to lose. Take advantage of every minute, and know that even a minor delay can mean losing vital business."

Move faster than your competitors to → win business, please customers and snap up opportunities. >>>

"Don't sit still. Anybody sitting still, you can guarantee they're going to get their legs knocked out from under them."