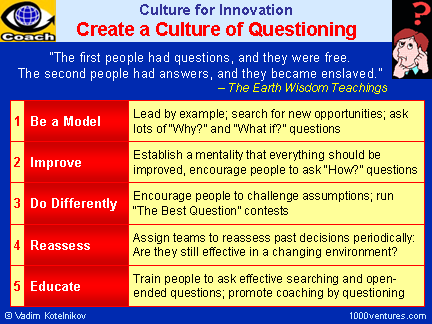 Create a Culture of Questioning
→ Creative dissatisfaction, challenging assumption and searching questions are critical to → innovation, → radical Improvements and → continuous improvement. Questions make you think about new ways of doing things. Exploration of possibilities, discoveries, innovation, and progress start with challenging assumptions, asking searching "Why?" and "What if?" questions, and plying "What if" scenarios.
How can you create a culture of questioning? Lead by example – start with yourself. Ask lots of questions. Don't question competence – ask open-ended searching questions instead.
→ Inspiring Culture: 5 Elements