How to deal with a substantive problem
and maintain a good working relationship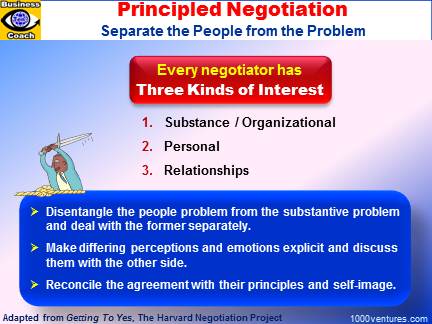 → How To Solve People Problems
Getting To Yes
Be hard on the deal, soft on the people... More
References:
1. Getting to Yes, by Roger Fisher, William Urey, Bruce Patton, Harvard Negotiation Project
2. Secrets of Power Negotiating, Roger Dawson
A Common Problem To Be Solved
→ Dealing with a problem

is often aggravated by people taking things personally, misunderstanding each other, resisting change, getting upset, angry or disinterested. Your counterparts may treat your comments on the substance as facts about your intentions and attitudes towards them. A → problem statement may be heard as a personal attack. Anger over a problem may lead you to express discontent with a person associated with it in your mind.
We tend to treat people and problem as one. Substantive issues become entangled with psychological ones, and egos become involved in substantive positions. The process is almost automatic if we donít take care of it.
→ Turn Problems to Opportunities: 6 Tips
Separate the People from the Problem
"During a negotiation, it would be wise not to take anything personally. If you leave personalities out of it, you will be able to see opportunities more objectively." ~ Brian Koslow
Every negotiator has three kinds of interests: in the substance or organizational interests; personal interests; and the relationships. Negotiators are people first with their values, emotions, different backgrounds and viewpoints. In addition, with many long-term associates, the ongoing relationship is often more important that the outcome of a particular negotiation.
The good thing, according the authors of the Getting to Yes1 guidebook sponsored by the Harvard Negotiation Project, is that ďdealing with a substantive problem and maintaining a good working relationship need not be conflicting goals if the parties are committed and psychologically prepared to treat each separately on its own legitimate merits.Ē
Principled negotiation, as contrasted to positional bargaining, focuses on the interests of the parties, mutually satisfactory options and fair standards to reach agreement. It enables the parties to reach agreement efficiently without all of the anger and resentment that occurs when they try to dig each other out of entrenched positions, improving the chances for a → wise agreement, amicably achieved, that can lead to a rewarding long-term relationship.
Donít try to → solve people problems with substantive concessions. Deal with people problems directly using psychological techniques.
Different people do see the same things differently. Make differing perceptions explicit and discuss them with the other side in a frank and honest manner. To change their perceptions, send them a message different from what they expect.
Recognize and understand emotions, yours and theirs. Make emotions explicit and acknowledge them as legitimate. Allow the other side to let off steam, if required.
Communicate clearly. Speak to be understood and show that you understand them. Listen actively and acknowledge what is being said.
Respect the values and the reputation of your counterparts and reconcile the agreement with their principles and self-image.