Contents
1. Smart Leader
1.1. Character and People Skills
Character and Personality of Highly Effective People
The Role of Your People Skills
The Tao of Influencing People
9 Principles of Effective Negotiating
Coaching Yourself
1.2. Technology of Achievement
COCA Principle of Achievement
Be Different and Make a Difference
The Tao of Achievement
Self-Motivation
SMART Goals
Entrepreneurial Creativity: 4 Intertwined Pillars
The Tao of Entrepreneurial Creativity
Failure as a Stepping Stone to Success
Creative Problem Solving (CPS): Reframing
1.3. Leadership Skills
Differences Between What Managers and Leaders Do
12 Effective Leadership Roles
Best Practices: Welch's 4Es of Leadership
Best Practices: 10 Lessons from Konosuke Matsushita See the slide
Best Practices: Powell's Leadership Principles
Leadership Attributes See the slide
Inspirational Leadership: 10 Roles See the slide
Situational Leadership
Creative Leadership
Leadership Challenge Model: 5 Exemplary Roles
Entrepreneurial Leaders: Specific Attributes See the slide
The Tree of Business See the slide
The Key Challenges To Organizational Success
10 Rules for Building a Sustainable Growth Business
Rapidly Changing Global Scenario See the slide
High-Growth Business Development: 4 Stages
Best Practices: Sam Walton's 10 Rules
Lessons from Narayana Murthy, Infosys: How To Build a Great Company
Corporate Vision See the slide
Balanced Business System See the slide
Innovation Strategies for Top-line and Bottom Line Growth
The Tao of Business Success See the slide
Business BLISS
The Tao of Balanced Management
Management By Consciousness
Business Model: 1+6 Components See the slide
The Tao of Customer Value Creation See the slide
Customer Intimacy
Extended Enterprise
Core Competencies
Strategic Alliances
Business Architect See the slide
Business Architect: Cross-functional Expertise Requirement
Systems Thinking
Cross-functional Excellence
2.2. Winning Organization
9 Signs of a Loosing Organization See the slide
Corporate Capabilities
Shift from Industrial to Knowledge-driven Enterprise
Shared Values
Best Practices: Disney's Inspiring Mission and Shared Values
Best Practices: GE Values Guide
Strategies for Building a Growth Culture
Best Practices: Building a Flexible Culture at Dell Computers
Success Story: Leading Organizational Transformation at GE
Building Trust
The Tao of Employee Empowerment See the slide
Employee Satisfaction
Effective Motivation
Attitude Motivation
The Single Key To Team Success
Building a Team Culture
Harnessing the Power of Diversity
Creating Cross-functional Teams
Fast Company
Best Practices: Warren Buffett Makes Quick Investment Decisions
Success Story: Charles Schwab
Best Practices: Charles Schwab's Corporate Guiding Principles
Success Story: Eliminating Bureaucracy at ABB
Fast Company: Owning Your Competitive Advantage
Intellectual Assets: Growing Role in the Modern Economy
Best Practices: Knowledge Management at British Petroleum (BP)
Best Practices: 4 Strategies for Raising Corporate IQ at Microsoft
The Wheel of Knowledge Management
The Tao of Intellectual Cross-Pollination
Coaching in the Workplace: Key Benefits
3 Types of Knowledge Organizations: Learning, Teaching, Coaching
2.3. Synergized Business Processes
Best Practices: Characteristics of the Most Successful Companies
Process Management: Shift to Cross-functional Model
Benefits of Enterprise-wide Business Process Management (EBPM)
Process Thinking
Eight Essential Principles of EBPM
Service-Profit Chain
Continuous Improvement Firm (CIF)
Lean Production: Removal of Waste Activities
Quality Management: 8 Rules
Aligning IT and Business
11 Traits of a True IT Leader
Three Hierarchical Levels of Strategy
Creating Sustainable Profit Growth: 9 Questions To Answer
Sustainable Growth Strategies
Strategy Pyramid vs. Strategy Stretch See the slide
Choosing Between Strategy and Opportunity Approach
Strategy Programming vs. Strategy Innovation
Best Practices: Dynamic Strategy Formulation by Silicon Valley Companies
Business Intelligence: 3 Levels
5 Strategic Competitive Questions
Competitive Strategies See the slide
Success Story: 7-Part Competitive Strategy of Microsoft
Sustainable Competitive Advantage: Synergy of Capabilities See the slide
Four Categories of Business Tactics
Four Types of Marketing Warfare
Customer Success 360
The Top 10 Laws of Marketing
Differentiation Strategies: Weak and Strong
Strategic Brand Management
Success Rates and Major Impeding Factors
Strategic Achievement: Thinking Χ Action Χ Learning
Lessons from Michael Dell: Mobilize Your People Around a Single Goal
If You Want To Grow: 6 Advices from Richard Branson
Strategic Intent
Searching for Opportunities
Dynamic Planning
Launching a Crusade
6Ws Chart of Change Management
Change Failure: Main Reasons
Leading Change: 8 Stages
The Tao of Change Management See the slide
4.1. New Management Model
New vs. Traditional Management Model
Leadership-Management Synergy See the slide
SuperLeadership: Leading Others To Lead Themselves
Lessons from Michael Dell: Managing by Wondering Around (MBWA)
Fundamental Management Changes Engendered by Internet
The Ideal Leader
Three Common Traits of Great Corporate Leaders
Shift from Management to Leadership
The Tao of Managerial Leadership
Managing Knowledge Workers
Best Practices: Getting the Most from Knowledge Workers in Silicon Valley
Three Manager's Skill Sets: Manager – Leader – Coach
Effective Leader: Attributes Χ Results
Lessons from Steve Jobs: 12 Rules for Success See the slide
Results-based Leadership See the slide
Strategic Leadership
80/20 Thinking
Organizational Fitness Profile (OFP)
Project Management: 2 Approaches
Business Synergies Approach to Project Management
Milestone-based Thinking
Volatility Leadership: 10 Best Practices
Entrepreneurial Leadership
Inspiring People See the slide
Energizing Employees
Employee Performance Management: Holistic Approach
Performance Management: Balanced Scorecard
Best Practices: Leadership Development at GE
4.3. 25 Lessons from Jack Welch
Success Story: Creating the World's Most Competitive Enterprise See the slide
Lessons from Jack Welch See the slide
Lead More, Manage Less
Lead
Manage Less
Articulate Your Vision
Simplify
Get Less Formal
Energize Others See the slide
Face Reality
See Change as an Opportunity
Get Good Ideas from Everywhere
Follow up
Build a Winning Organization
Get Rid of Bureaucracy
Eliminate Boundaries
Put Values First See the slide
Cultivate Leaders
Create a Learning Culture
Harness Your People for Competitive Advantage
Involve Everyone
Make Everybody a Team Player
Stretch See the slide
Instill Confidence
Make Business Fun
Build the Market-Leading Company
Be Number 1 or Number 2
Live Quality
Constantly Focus on Innovation
Live Speed
Behave Like a Small Company
GE Leadership Assessment Survey (LES): 10 Characteristics
1. Vision
2. Customer / Quality Focus
3. Integrity
4. Accountability / Commitment
5. Communication / Influence
6. Shared Ownership / Boundaryless
7. Team Builder / Empowerment
8. Knowledge / Expertise / Intellect
9. Initiative / Speed
10. Global Mind-set
5.1. Systemic Innovation
Innovation – the Key to Success and Survival
Evolution of Innovation from Linear to Systemic
Systemic Innovation 360: 7 Areas See the slide
Strategy Innovation: 4 Steps
The Tao of Value Innovation See the slide
The Tao of Business Process Innovation
Engaging Cross-functional Teams
Leading Systemic Innovation
Business Innovation: Four Strategies
Success Story: Bunsha – Growing Business through Spinouts
Best Practices: Characteristics of Most Successful Companies
Product Innovation: Types of New Products
Radical vs. Incremental Innovation
Best Practices: Stretching Innovation Portfolio by Silicon Valley Companies
Innovation vs. Operations Management
Venture Strategies: Five Areas
Success Story: Spinouts by Thermo Electron
Venture vs. Corporate Management
Success Story: In-company Ventures at Corning
7 Challenges in Managing Radical Innovation
Success Story: Venture Investing by GE Equity
Best Practices: Qualities of Top Managers at GE Equity
Customer Partnership
Lessons from Michael Dell: Turn Your Customers Into Teachers
5.3. Corporate Innovation System
Innovation System
Creating a Culture for Innovation
Strategic Alignment
Best Practices: Creating a Relentless Growth Attitude
Innovation-friendly Organization: 6 Components See the slide
How To Lead Creative People
New Product Development by Cross-functional Teams
The Fun Factor
Innovation Process: Two Models
Best Practices: Innovation Process Attributes in Silicon Valley
The Jazz of Innovation See the slide
The Jazz of Innovation: 11 Practice Tips See the slide
Leading Innovation: Loose-Tight Leadership
Techniques for Idea Evaluation and Decision Making
6 Thinking Hats: A Tools for Analyzing Proposals
Best Practices: Facilitating Cross-pollination of Ideas
The Tao of Experimentation
Freedom To Fail
Product Innovation Metrics
Leading Innovation: Tips for Making the Vision a Reality
Sample Smart & Fast Lessons
Slide + Executive Summary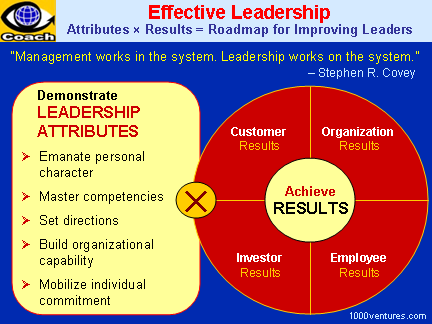 "Leadership is the art of getting someone else to do something you want done because he wants to do it." – Dwight D. Eisenhower
Leadership Defined
Leadership is the process of directing the behavior of others toward the accomplishment of some common objectives. It is influencing people to get things done – willingly! – to a standard and quality above their norm to achieve a shared stretch goal. As an element in social interaction, leadership is a complex activity involving a process of influence; actors who are both leaders and followers, and a range of possible outcomes – the achievement of goals, but also the commitment of individuals to such goals, the enhancement of group cohesion and the reinforcement of change of organizational culture.
What is Leadership? Three simple one-line answers by Paul Taffinder
The easy answer: leadership is getting people to do things they have never thought of doing, do not believe are possible or that they do not want to do.

The leadership in organizations answer: leadership is the action of committing employees to contribute their best to the purpose of the organization.

The complex (and more accurate) answer: you only know leadership by its consequences – from the fact that individuals or a group of people start to behave in a particular way as result of the actions of someone else.
Effective Leadership as a Source of Competitive Business Advantage
Leadership is imperative for molding a group of people into a team, shaping them into a force that serves as a competitive business advantage. Leaders know how to make people function in a collaborative fashion, and how to motivate them to excel their performance. Leaders also know how to balance the individual team member's quest with the goal of producing synergy – an outcome that exceeds the sum of individual inputs. Leaders require that their team members forego the quest for personal best in concert with the team effort.
Super-leaders help each of their follower to develop into an effective self-leader by providing them with the behavioral and cognitive skills necessary to exercise self-leadership. Super-leaders establish values, model, encourage, reward, and in many other ways foster self-leadership in individuals, teams, and wider organizational cultures.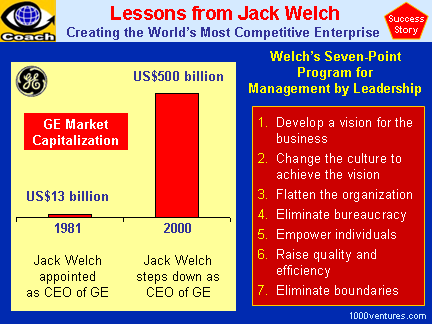 Corporate Leadership: the Jack Welch Way
Jack Welch has been with the General Electric Company (GE) since 1960. Having taken GE with a market capitalization of about $13 billion, Jack Welch turned it into one of the largest and most admired companies in the world, with a market value of about $500 billion, when he stepped down as its CEO 20 years later, in 2000. Although Jack Welch is "the celebrated leader of a global manufacturer often noted for its technological prowess, he has utilized a very human process to drive change through GE's vast organization. Having respect for the individual as a pivotal force in organizational change, Welch created a model of exceptional performance every corporate leader can learn from.
The Role of the Leader in the New Economy
As Jack Welch wrote in a letter to shareholders: "In the old culture, managers got their power from secret knowledge: profit margins, market share, and all that... In the new culture, the role of the leader is to express a vision, get buy-in, and implement it. That calls for open, caring relations with every employee, and face-to-face communication. People who can't convincingly articulate a vision won't be successful. But those who can will become even more open – because success breeds self-confidence."
Welch urged all GE leaders to stretch their business strategy, "Don't ever settle for mediocrity. They key to stretch is to reach for more than you think is possible. Don't sell yourself short by thinking that you'll fail." Do the best possible - and then reach beyond. Stretch "essentially means using dreams to set business targets - with no real idea of how to get there. If you do know how to get there - it's not a stretch target."
Employee Empowerment
Under Welch's leadership, managers had wide latitude in building their GE units in entrepreneurial fashion. Determined to harness the collective power of GE employees, Jack Welch redefined also relationships between boss and subordinates. He wrote: "The individual is the fountainhead of creativity and innovation, and we are struggling to get all of our people to accept the countercultural truth that often the best way to manage people is just to get out of their way. Only by releasing the energy and fire of our employees can we achieve the decisive, continuous productivity advantages that will give us the freedom to compete and win in any business anywhere on the globe."
Two Components of Sustainable Growth Strategy
Sustainable business growth strategy is a practical approach to achieving top-line growth and bottom-line results. The two main sources of sustainable competitive advantage are:
Continuous Improvement Culture: continuous effort to improve organizational climate and productivity of the core business in response to continuous changes in the marketplace.

Durable Corporate Venture Strategy: internal investment in innovation and new product/service development, new business creation, and external venture investing in new technologies and emerging markets.
Improvement Strategies versus Venture Strategies
Improving Processes: Addressing the ever-changing needs of current customers and keeping cash flow healthy. Cost-cutting efforts can build your bottom line.

Radical Innovation: It is radical innovation and new game changing breakthroughs that will launch your company into new markets, make you a market leader, enable rapid growth, and create high return on investment.
Continuous Change as a Norm
Companies, like any living organism, must become learning organizations that change and adapt to suit their changing environment. "If you don't practice the change management that looks after the future, the future will not look after you," says Bill Gates. "The tendency for successful companies to fail to innovate is just that: a tendency. If you're too focused on your current business, it's hard to look ahead."
Two Types of Change in the Marketplace
1. Organic, or continuous, change
2. Radical, or discontinuous, change driven by radical innovation
Why Business Architect?
In today's knowledge- and innovation-driven complex economy, business architects are in growing demand. They are cross-functionally excellent people who can tie several silos of business development expertise together, create synergies, design winning business model and a balanced business system and then lead people who will put their plans into action.
Business Architect Defined
Business architect is a person that initiates new business ventures or leads business innovation, designs a winning business model, and builds a sustainable balanced business system for a lasting success.
Business architects can be found in a multitude of business settings: corporate change leaders, initiators of joint ventures, managers of radical innovation projects, in-company ventures, spin-outs, or new start-up ventures. Although the settings in which business architects act are different, they all design and run a new venture to achieve its sustainable growth.
Integrated Approach to the Management Process
The integrated business systems approach to business development and the management process is what distinguishes modern cross-functionally excellent business architects from functional managers. As a business architect and an extremely effective leader, you must have a broad view to be able to link together – synergistically! – the key components of corporate success – from functional planning to cross-functional cooperation, from supply chain management to customer value creation, from the art of continuous learning to the practice of effective communication and influencing people – and bundle them in an intellectual, innovative and pragmatic package that can be used to achieve sustainable competitive advantage and business growth, both top-line and bottom-line.
Inclusive Approach
At the heart of the inclusive approach is the belief that understanding stakeholder needs – the needs of customers, employees, suppliers, shareholders and society, and the environment – and incorporating them into enterprise strategy and sustainable value creation activities are central to the achievement of sustainable growth and competitiveness.

And
much
more!