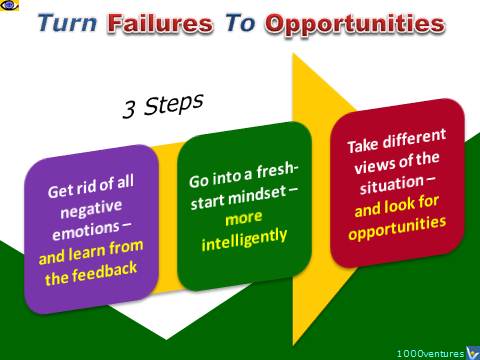 Turning Failures into Opportunities
The Three Steps
Go into a fresh-start mindset – more intelligently: Given the situation you are in now as a starting point, consider various options: what opportunities for and a roadmap to ultimate success can you see or imagine?

Take different views of the situation – and → look for opportunities: Having looked at the scene from your view, look at it from different → perspectives, try each of these views:

an optimist's view;

a pessimist's view;

an anarchist's view;

an architect's view;

a child's view;

a poet's view;

a strategist's view;

a → competitor's view;

a supplier's view;

Salvador Dali's view;

Charles Darwin's view.
Turning Failures Into Opportunities
"When you make a mistake, don't look back at it long. Take the reason of the thing into your mind, and then look forward. Mistakes are lessons of wisdom. The past cannot be changed. The future is yet in your power."
~ Phyllis Bottome
To profit from experience you must be open and willing to learn, even from what some people might consider a failure.
"Generally, people have a narrow and negative understanding of the meaning of failure, and therefore tend to fide from it, a reflex that can block valuable learning," writes Peter Skat-Rørdam.1 What may seem to be a failure can actually lead to new opportunities, especially if the knowledge acquired from the failed projects can be exploited. → Right learning questions can serve as a starting point for the assimilation of learning.
→ 6 Mindsets of a Great Achiever
Changing your → attitude is the key to finding success in seeming failure. "Optimistic thinking has sometimes gotten a bad rap as being unrealistic, but research has found that we can indeed live → happier, healthier, and → more successful lives if we can learn to discover opportunities in problems," says Charles C. Manz.2 These problems then become merely challenging opportunities that we can turn to our advantage.
"Admit to -- and learn from -- your mistakes. Mistakes must be viewed positively... because with the knowledge you gain from them, you are able to do better in the future. So much can be accomplished with a long-term vision and resilience to short-term setbacks. Not every problem is conquered overnight, but if you persist and never give in to your mistakes, you will succeed." ~ Craig Ballantyne