Contents
Introduction
Revolution in Innovation: 3 Stages
Reinventing Innovation: Shift to a Wholistic Multidisciplinary Approach
Systemic Approach to Innovation: 7 Interwoven Areas
Lessons from Jack Welch: Constantly Focus of Innovation
Balanced Business System
Sustainable Innovation – the Key to Survival and Success
Intellectual Assets – the Major Value Drivers of Business
Shift from Linear to Systemic Innovation
Synergy See the slide
Success Story: Apples' Innovative Business Models and Value Propositions
Harnessing the Power of Diversity
The Tao of Value Innovation
1. Business Innovation
Business Model: 6+1 Components
Changes that Call for a New Business Model
Success Story: Direct Model of Dell Computers Corp.
Success Story: GE – Creating a Competitive Enterprise See the slide
25 Lessons from Jack Welch
Success Story: British Petroleum
Lessons from Jack Welch: Live Speed
Fast Company
Success Story: Charles Schwab
High-growth Business Development: Launching a Crusade
Owning Your Competitive Advantage
Lessons from Jack Welch: Behave Like a Small Company
Corporate Venture Investing in External Start-Ups
Success Story: Corporate Venture Investing by GE Equity
Venture Acquisitions
Balancing Outside-In and Inside-Out Strategies
Business Innovation and Growth Strategies
Business Architect
Business Model Innovation: New Roles of the IT Leader
Systems Thinking
Discovering and Building Synergies
Building Your Cross-functional Excellence
Harnessing the Power of Diversity
Creating Cross-functional Teams
2. Organizational Innovation
Shift from Industrial to Knowledge-driven Organization
9 Signs of a Losing Organization
Entrepreneurial Organization: 10 Characteristics and 5 Benefits
10 Steps to Developing Entrepreneurial Staff
Switching Responsibilities
Managing Organizational Change: The Wheel of Business Evolution
7Ss – Framework for Analyzing and Improving Organization
Adaptive vs. Unadaptive Corporate Cultures
Organization Fitness Profile (OFP)
Innovation-friendly Organization: 6 Components
Best Practices: Organizational Structure of Silicon Valley Companies
Flat Organization: Divisional Structure
Best Practices: IDEO's Hot Studio System
Best Practices: Shift to a Matrix Organization at British Geological Survey (BGS)
Success Story: British Petroleum – a Federation of 100 Business Units
Break Down Barriers To Communication
Lessons from Jack Welch: Get Rid of Bureaucracy
Success Story: Getting Rid of Bureaucracy at ABB
Lessons from Jack Welch: Involve Everyone
Success Story: GE Work-Out
Lessons from Dell: Mobilize Your People Around a Single Goal
Best Practices: Building a Growth Culture as Dell Computers
Employee Empowerment: 3 Levels
Nourish Entrepreneurial Spirit
Lessons from Jack Welch: Energize Others See the slide
Freedom to Fail
The Fun Factor
Creative Leadership
Lessons from Jack Welch: Create a Learning Culture
Best Practices: Getting the Most from Knowledge Workers in Silicon Valley
Building a Team Culture
Engaging Cross-functional Innovation Teams
Leading Systemic Innovation
Best Practices: Hot Groups at BP
Best Practices: Cross-functional Innovation Teams at Quantum
Best Practices: Silicon Valley Companies – Sharing Gain With Employees
Best Practices: Pre-IPO Company Ownership
Coaching in the Workplace: Key Benefits
Three Types of Knowledge Organizations: Learning, Teaching, Coaching
Leading Change: 8-Stage Process
Lessons from Jack Welch: Cultivate Leaders
3. Strategy Innovation
The Need for Strategy Innovation
Lessons from Jack Welch: See Change as an Opportunity
Strategy Pyramid vs. Strategy Stretch
Choosing Between Strategy and Opportunity Approach
Discovering Opportunities
Strategy Innovation: 4 Steps
Strategy Programming vs. Strategy Innovation
Best Practices: Dynamic Strategy Formulation by Silicon Valley Companies
Techniques for Fast Idea Evaluation
Lessons from Jack Welch: Stretch! See the slide
Achieving Bottom-line Results and Top-line Growth
Best Practices: Using Innovation Portfolio by Silicon Valley Companies
Best Practices: Stretching Innovation Portfolio by Silicon Valley Companies
Competitive Strategies
Sustainable Competitive Advantage
Strategic Alliances
4. Technology Innovation
Technology Innovation: 4 Types
Corporate Innovation System: 5+1 Components
Strategic Alignment
Strategic Intent
Radical versus Incremental Innovation
Radical Innovation: Key Uncertainties
Fuzzy Front End
7 Challenges in Managing Radical Innovation
Venture Strategies: Internal and External Ventures
Success Story: Spinouts of Thermo Electron Corporation
Venture Management vs. Corporate Management
Success Story: In-company Ventures by Corning
Best Practices: Measuring Innovation by Silicon Valley Companies
5. Process Innovation
The Tao of Business Process Innovation
Service-Profit Chain
Process Innovation: Shift to Cross-functional Paradigm
Process Thinking
Enterprise-wide Business Process Management (EBPM): 8 Principles
Aligning Information Technology (IT) and Business
Lean Production: Doing More with Less
Kaizen and Radical Innovation
Kaizen and Kaikaku
10 Kaikaku Commandments
Best Practices: Process Improvement at Fidelity Investments
Using 80/20 Principle
Extended Enterprise
Virtual Integration
Managing Innovation vs. Managing Operations
Best Practices: Attributes of Effective Innovation in Silicon Valley
Innovation Process: Flexible Model
Business Synergies Approach to Innovation Project Management
The Jazz of Innovation
The Jazz of Innovation: Key Components
6. Product Innovation
Product Innovation: New Product Types
New Product Development by Cross-functional Teams
Lessons from IDEO: New Product Design
Keys to Successful Market Learning
Radical Innovation: A Different Role of Prototyping
Experimentation – The Key To Discovery
Measuring Innovation: New Product Metrics
7. Marketing Innovation
Synergistic Marketing and Selling
The Tao of Marketing Innovation
Creative Marketing
Creative Marketing: The Key To Explosive Growth
Creative Marketing: Selected Amazing Results
Best Practices: Estee Lauder's Winning Creatinve Marketing Ideas
Lessons from Steve Jobs: Sell Dreams and Emotional Benefits
Success Story: Half.com – Innovative Buzz Marketing
Best Practices: Burger King's Creative Customer Survey and Buzz Marketing
Creative Solving of Customer Problems
Success Story: Xerox Corporation – Innovative Revenue Model
Success Story: Amazon.com – Creating Value and Competitive Advantage
Differentiation Strategies
Positioning
Customer Intimacy
Lessons from Dell Computers: Segmentation by Customer
Lessons from Michael Dell: Turn Your Customers Into Teachers
Sample Smart & Fast Lessons
Slide + Executive Summary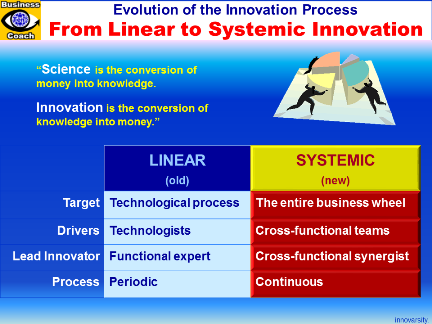 New Systemic Approach to Innovation
Until recently innovation has been seen principally as the means to turn research results into commercially successful products, but not all research leads to innovation and not all innovation is research-based. Certainly research is a major contributor to innovation, generating a flow of technical ideas and continually renewing the pool of technical skills. It should be a vital ingredient in your enterprise strategy, particularly over long term, if you are to maintain a stream of competitive products on the market.
Important though research is as the source of invention, innovation encompasses more than the successful application of research results. Innovation can also stem from adopting new technologies or processes from other fields, or from new ways of doing business, or from new ways of marketing products and services. The evolution of the innovation concept – from the linear model having R&D as the starting point to the systemic model in which innovation arises from complex interactions between individuals, organizations and their operating environments – demonstrates that your innovation policies and practices must extend their focus beyond the link with research.
Hard vs. Soft Innovation
Hard Innovation is organized R&D characterized by strategic investment in innovation, be it high-risk-high-return radical innovation or low-risk-low-return incremental innovation.

Soft Innovation is the clever, insightful, useful ideas that just anyone in the organization can think up.
Case in Point: Lessons from Jack Welch
At GE, the sum is greater than its parts as both business and people diversity is utilized synergistically in a most effective way. "Practice systems thinking and holistic approaches," advised Jack Welch. Seek to improve and optimize the totality of your business rather than the profits of its components. "Everything about this enterprise is doing more with less. It needs rejuvenation all the time. Quality is the next in the learning process. Getting rid of layer. Getting rid of fat. Involving everyone. All that was to get more ideas. The whole thing here is to create a learning organization."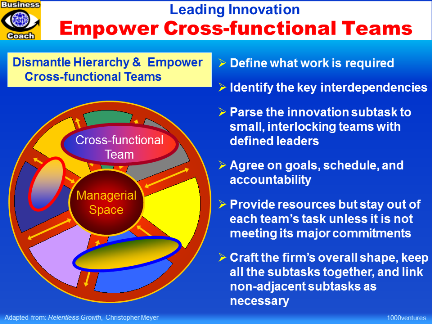 Start with Yourself
To lead innovation successfully you should start with yourself. A characteristic of CEOs in stagnant companies (often referred to as the "living dead") is that they ask their people to be entrepreneurial, to innovate and grow but do not do so themselves.
If people see that the boss is a "know-it-all," at the very best they'll be motivated to learn all the boss knows.
If the boss has a rich sense of curiosity that openly questions the impact of not only his actions but those of others, the business and competitors, than others will learn from this and do like wise.
Visionary Purpose and Goals
Leading innovation requires a visionary purpose and goals. Make sure you keep stretch in your vision, communicate it constantly, and keep linking the events of today to your vision, underscoring the relationship between the two. The constant tension between today's reality and your goals is what spurs extraordinary innovation... Emphasizing the importance of today's work keeps people focused, while linking it to the vision keeps them motivated. This communication should be enduring as each encounter people have with the firm's vision unveils another element of connection.
Establishing Purpose, Direction and Goals: Leader's Tasks
Christopher Meyer, the author of Relentless Innovation, lists the following tasks of a corporate innovation leader.
Stretch imagination of your people; establish growth attitude

Share your thinking, communicate your stretched vision, purpose and direction constantly and within multiple contexts

Inject passion to energize people and bring vision into life

Follow up, keep linking the events of today to your vision, underscoring the relationship between the two

Resurface constantly to test purpose and direction