Innompic Games
Innompic Games is an ideal example of radical innovations.
Innompics are to make huge positive global impact for centuries ahead. It is a civilizational breakthrough that helps create breakthrough innovations and celebrates the smartest disruptive innovators...
More
Innoball ('Innovation Brainball' or 'Innovation Football') is a breakthrough innovation that helps create breakthrough innovations.
Innoball is a simulation game that helps disruptive innovators achieve great success in the real world. It helps you to: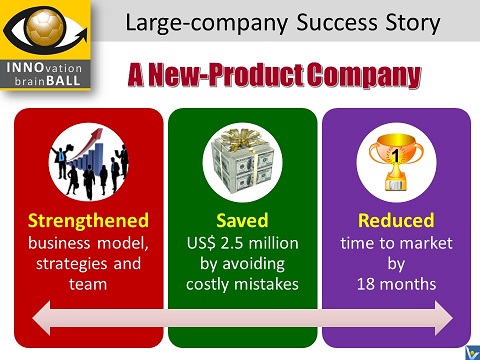 3M
Source: Every Business Is a Growth Business, Ram Charan and Noel Trichy
Many companies have seemingly done well thinking from the inside out. 3M achieved legendary success as an innovator by giving its people room to develop their ideas in quasi-entrepreneurial fashion. For years, it ranked among the leaders of FORTUNE's list of most admired companies. But during the first half of of the 90s, 3M grew its top line less than 4% despite the brilliance of its entrepreneurial technologists. There wasn't enough feedback from the marketplace – missing were the insight into the customer's mind, and the intuitive observations about needs that could have translated inventiveness into → powerful growth. In late 90s, new leadership got the company back on track with outside-in growth initiatives.

Joke: "Three Legged Chicken" – a Radical Innovation Project
This joke reveals unforeseen technical uncertainties of a radical innovation project.
A man was driving along a freeway when he noticed a chicken running along side his car. He was amazed to see the chicken keeping up with him because he was doing 50 MPH. He accelerated to 60 and the chicken stayed right next to him... Next

More Innovation Jokes