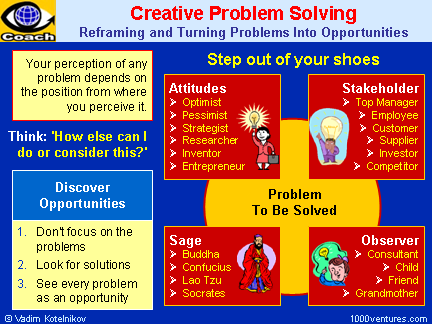 Learning SWOT Questions
What went unexpectedly well and why?

Are there any new directions to be explored?...
More
Six Powerful Tips
Start to believe you can. Think positively. Most people simply do not get what they want because they have no courage to believe that they can achieve it.

Shift your focus. Don't focus on the problems, focus on finding opportunities. Don't talk about a problem; talk about an opportunity. When you see a problem as a problem you only attract more problems. If you wish to attract opportunities instead, see the problem as an opportunity. There is an old saying that goes like this: "There are no problems, only opportunities."

Think of what it is you really want to achieve. Write a statement in a form "Wouldn't it be nice if...". Commit to it to engage your subconscious mind.

Think about how you can accomplish your goal. When you think of possible solutions you force your mind and subconscious mind to find opportunities that will help you achieve the desired results.

Take different views of the situation. Having looked at the scene from your view, look at it from different perspectives, try each of these views:
Make it a habit. See every problem as an opportunity. As you regularly start to look for opportunities in a problem, as you continue to think of finding opportunities you will begin to attract more opportunities.