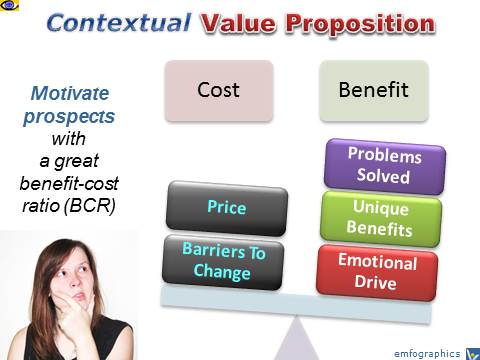 Three Generic Value Propositions (Value Disciplines)
By Treacy & Wiersma
The best total cost (best price, hassle-free service), like McDonald's
The best product (best performance), like Nike
The best solution (tailored, individual service), like Harrods
The trick is to excel in one area
while maintaining acceptable levels in the others.
The Best Technique to Win the Customer Over
Skillful integration of the following three considerations
can prove irresistible:
Good idea
Fair price
Why People Purchase?
Why people purchase? How to get more of them to purchase from you now? How to make your advertising work?
Strategy 1: Take the hopes, dreams, fears and desires that already exist in the hearts of people, and focus them on your product.
Strategy 2: Create a new customer need or desire, and offer your product as the best solution.
→ Selling Is Problem Solving
→ Synergistic Selling: 3 Components
What Is Your Business Design?
The delivery of the customer value proposition relies on a business design, which uses key business processes to harness the distinctive capabilities, competences and resources of your firm to deliver superior value to relevant markets. Inspired by design thinking, customer value propositions and business designs compete and collaborate for customers, resources, infrastructures and skills on strategic landscapes... More
Do Your Customers Enjoy Buying from You?
Why would people want buy from you if they don't enjoy doing so? Making what you have to sell fun to buy is simply taking the whole process one step further. "If you can make your customers laugh, and excite them with your vision of what life can be, they are not going to walk into your outlets, but run into them. Running a successful business should be fun for you, and there's every reason why you should be able to communicate that sense of fun to your customers. Certainly, if you aren't having fun, you probably aren't running a successful business," write James Essinger and Helen Wylie in The Seven Deadly Skills of Competing.