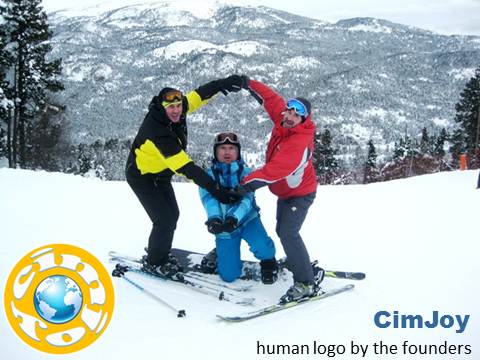 are making a human CimJoy's Logo
Fun4Biz is a social network where people can build their entrepreneurial creativity skills by participating in both serious and humorous contest ... >>>
→ 2 Catalysts of Creativity

Simulation Game "Innoball"

Innovation Brainball (Innoball) is a breakthrough business game that helps disruptive innopreneurs achieve great success in the real world. This strategic simulation game is also a great fun.
Innoball helps you:

KoRe 10 Innovative Thinking Tools
KoRe 10 metaphoric tools are relevant and rich metaphors for the kind of things we work on when we need to invent new things, anticipate opponents' moves, design an innovative strategy, and to find → creative solutions to complex problems. An have great fun all the way... More
Google's 10 Guiding Principles
You can be serious without a suit. Google's founders built the company around the idea that work should be challenging, and the challenge should be fun. They put great stock in their employees – energetic, passionate people with creative approaches to work, play and life... More
Do you really want to know what is deep inside, at the core of Silicon Valley and what makes is tick?

"The truth is ... it's a ball! Hard work combined with hard play – at every level, from executive down and back up again."

People don't only work hard, but also have a lot of fun at the same time. And they are not just having fun, but planning it and making it part of their culture.

This is the spirit that truly enables relentless innovation and creates innovation-adept culture... More
David Kelley, the founder of IDEO, the world's leading new product design company, believed that if he hired people he liked and respected, everybody would have fun and more work done... More
"My sense is that innovation can, in reality, get quickly lost in a start up ‒ especially once that startup is launched," says Joe Kraus, Founder of JotSport. This happens because the company is short staffed and the company is trying to get customers in as many ways as possible that it's very easy to squeeze innovation out of the system and instead get focused exclusively on customer-driven development. You go from a company with a lot of great ideas and big visions, to a company with a year-long roadmap and no real sense of "I-came-up-with-this-great-idea-which-I-built-over-the-weekend-and-look-how-cool-it-is".'

What can help startups stay innovative? The answer of Joe Kraus: Have fun!... More

Inland Empire Health Plan (IEHP)
The IEHP Team Culture supports a system to provide the best health care possible to people who need IEHP's collective support.
It's a corporate culture that supports the idea that all Team Members are valued individuals. They can make a difference. And they should be happy at work. It's okay to have fun... More

Michael Dell
Once, Michael Dell, the Founder of Dell Inc. was speaking to an entrepreneurship class at his alma mater, the University of Texas, when a student asked why the multibillionaire continued to work. "You've got so much money," the bold young student declared. "Why don't you just sell out, buy a boat, and sail off to the Caribbean?" Dell's answer said it all: "Sailing's boring. Do you have any idea how much fun it is to run a billion-dollar company?"

Wall-Mart
In his 10 Rules for Building a Business Success, Sam Walton, the Founder of Wall-Mart advices: "Find some humor in your failures. Don't take yourself so seriously. Loosen up, and everybody around you will loosen up. Have fun. Show enthusiasm – always. When all else fails, put on a costume and sing a silly song. Then make everybody else sing with you. Don't do a hula on Wall Street. It's been done. Think up your own stunt. All of this is more important, and more fun, than you think, and it really fools competition. "Why should we take those cornballs at Wal-Mart seriously?"... More

Oxygen Learning – Making Learning Fun
Oxygen Learning's mission is to challenge, motivate and empower individuals within organizations to achieve increased performance and improved quality of life by delivering programs and events that make learning fun. "Who stole the fun out of learning?" they ask, and invite you to make a difference in the quality of your life and your business performance by experiencing some of their unique programs and events that make learning fun. You'll laugh, you'll enjoy, you'll make a difference… What you learn, and how you learn it, will never be the same again!
---