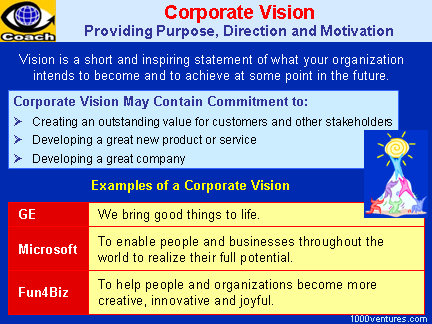 GE
At General Electric (GE) the corporate vision is 'We bring good things to life'.
The corporate success depends on the vision articulated by the → CEO

or the → top management. For a vision to have any impact of the employees of an organization it has to be conveyed in a dramatic and enduring way. The most effective visions are those that inspire, usually asking employees for the best, the most or the greatest. Make sure you keep → stretch in your vision, communicate it constantly, and keep linking the events of today to your vision, underscoring the relationship between the two.
In one of his first speeches as CEO, → Jack Welch explained that he was not going to lay out an "all-inclusive" grand strategy or step-by-step agenda for the company. Instead, he was going to → articulate a vision and a few clear goals for the company. He has always felt that best leaders are visionaries. They do not get caught up in the minutiae or obsess over every detail, but instead → inspire others to execute on that vision.
To Welch, there are several reasons why it is better to lay out a general vision and not an exact blueprint.
It is the leader's responsibility to come up with the vision. Once the vision was communicated, it is up to the team to → turn this vision into a reality.

A leader who spends too much time on the details is likely overmanaging. It is much better to give a general direction and empower the team to figure out the exact route... More

Business e-Coach
The Vision of inspirational → Business e-Coach, is "To inspire → innovation

and help people and companies create a more exciting world." >> ❿
Silicon Valley Companies

Silicon Valley leaders keep stretch in their vision and communicate purpose and direction consistently and within multiple contexts. They keep linking the events of today to their vision, underscoring the relationship between the two keep people motivated and focused.

Microsoft's vision is to enable people and businesses throughout the world to realize their full potential.

The Ford Motor Company vision is 'to become the world's leading consumer company for automotive products and services'.

Infogrames

Infogrames is a French company producing entertainment software games for CD-ROD, SEGA and Nintendo consoles etc. The company is driven by vision of opportunities, as well as the challenge of turning them into a reality. At Infogrames, there are a few key people who can create visions that employees, business partners and investors understand and find attractive. These shared visions knit many people in the Inforgames network together. They are without doubt a major motivational factor in the organization, pushing the limits of its capabilities, and optimizing performance.

3M
The 3M vision: "Achieving Breakthrough Performance for our Customers, Employees, and Shareholders."

AMD
The vision of AMD, a global innovative microprocessor, flash memory and low-power processor solutions manufacturer, is "A Connected Global Population".