The Fuzzy Front End
Early Phase of the Radical Innovation Process
ripe with → opportunity, but

devoid of many definitive facts.
Rather than looking for answers,
try to define the critical questions.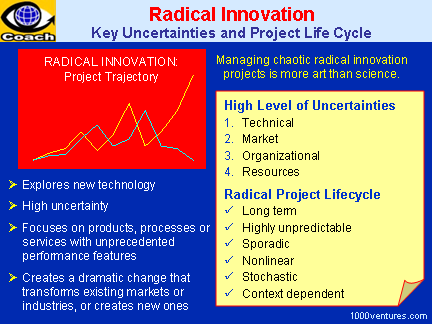 References:
1. "Relentless Growth", Christopher Meyer
2. "Radical Innovation", Harvard Business School
3. "Developing Products in Half the Time", D. Reinertson & P. Smith
4. "The Art of Innovation", Tom Kelley
The Fuzzy Front End Defined
The early stage of the radical innovation process is ripe with opportunity, but it is also devoid of many definitive facts. Due to its high degree of ambiguity, this development phase has become known as "the fuzzy front end."3 >>>
| | | |
| --- | --- | --- |
| | In the business world, the rearview mirror is always clearer than the windshield. | |

Jokes about Unexpected Problems
Fuzzy logic is a system of logic that allows for degrees of uncertainty, rather than depending on absolute truth-values, and that is used to make human thought processes or imprecise information accessible to computers.
While the situations that fuzzy logic addresses are ambiguous, fuzzy logic itself is a very defined methodology. Modern → business and technology leaders use the managerial equivalent of fuzzy logic to address the ambiguity of the fuzzy front end.
The core elements of this approach include... More
Brainstorming
→ Brainstorming is not just a valuable creative tool at the fuzzy front end of projects. It's also "a pervasive cultural influence for making sure that individuals don't waste too much energy spinning their wheels on a tough → problem when the collective wisdom of the team can get them → "unstuck" in less than an hour."4... More
The Power of Prototyping
"Quick prototyping is about acting before you've got the answers, about taking chances, stumbling a little, but then making it right. When you're creating something new to the world, you can't look over your shoulder to see what →your competitor are doing; you have to find another source of inspiration," writes Tom Kelly4 from IDEO. "Once you start drawing or making things, you open up new possibilities of discovery. Doodling, drawing, modeling. Sketch ideas and make things, and you're likely to encourage accidental discoveries. At most fundamental level, what we're talking about is play, about exploring borders."4... More

Simulation Games "InnoBall" and "InnoChess"
Innovation Football (Innoball) and Innovation Chess (Innochess) are breakthrough business games that help disruptive innopreneurs achieve great success in the real world. These simulation games develop as a sequence of assumed moves by innovators and their opponents. They help you to: