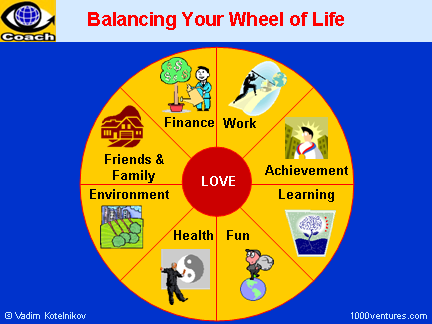 What Motivates Managers and Workers
Creating Greater Value for Others
The Wheel of Life: East vs. West
Customer Needs ● What Makes People Buy
Understanding Risks Perceived by Customers
→ Focus on Emotional Drivers
●
Tips
●
Selling (and Silence)
"The conscious mind may be compared to a fountain playing in the sun and falling back into the great subterranean pool of subconscious from which it rises."
~ Sigmund Freud
Unconscious core values operate automatically largely out of our awareness. They are not specific to any particular situation. Being at the root of our
→ perceptions, they color what we → think or do in every situation.
Below is the list of Top 10 unconscious values that summarizes the findings of researchers from → various cultures.
The desire for power in order to have more opportunities to apply your talents

The quest for spiritual growth and more knowledge → Great Learner

The desire to make or save or spend money

The need for appreciation and recognition

The desire to care about your dear ones

Sexual fulfillment

Security and order

Honoring tradition