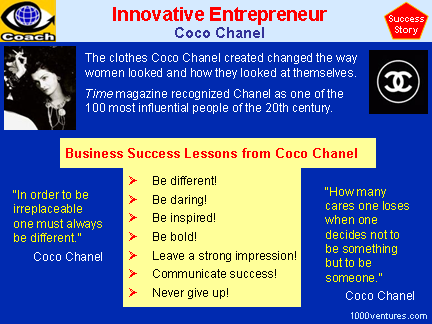 Selected Quotes by Coco Chanel
How many cares one loses when one decides not to be something but to be someone.

I invented my life by taking for granted that everything I did not like would have an opposite, which I would like.

Fashion is not something that exists in dresses only. Fashion is in the sky, in the street, fashion has to do with ideas, the way we live, what is happening.

Fashion is made to become unfashionable.

Dress shabbily and they remember the dress; dress impeccably and they remember the woman.

Fashion passes, style remains.

Fashion is not simply a matter of clothes. Fashion is in the air, born upon the wind. One intuits it. It is in the sky and on the road.

There are a lot of duchesses, but only one Coco Chanel. (On commenting as to why she did not marry the Duke of Westminster)

I am Coco Chanel.

I love myself.
A Most Influential Person of the 20th Century
Gabrielle Bonheur "Coco" Chanel (1883 – 1971) was a pioneering French couturier whose modernist philosophy, a new vision of women's fashions, and pursuit of expensive simplicity made her a most important figure in the history of fashion design. Time magazine recognized Chanel as one of the 100 most influential people of the 20th century.
Success Lessons from Coco Chanel
Be Different
"In order to be irreplaceable one must always be different," said Chanel. "People laughed at the way I dressed, but that was the secret of my success: I didn't look like anyone." Chanel disliked the look of corsets and felt that women were taking on too much discomfort in the name of fashion. "Luxury must be comfortable, otherwise it is not a luxury," she said, and replaced the corset with comfort, casual elegance, and a feeling of hidden luxury. She mixed up the vocabulary of male and female clothes. Her fashion themes included simple suits and dresses, women's trousers, costume jewelry, perfume and textiles.
Be Daring
Chanel was willing to take the risks she needed to in order to reach the top. From day one, her career had been characterized by her willingness to defy convention time after time. When Chanel first introduced her jersey and tweed suits for women, she was rebuked by the European critics. But, Chanel gave no matter. "The most courageous act is still to think for yourself," she said. "Aloud." She ignored the critics and continued embodying her bold vision of fashion and femininity. She designed and wore open-necked shirts when everyone else was buttoning theirs up; she wore trousers and created her signature scarlet lipstick. "Success is often achieved by those who don't know that failure is inevitable," said Chanel.
Leave a Strong Impression
Chanel understood the importance of appearance to getting ahead in the business world. "Dress shabbily and they remember the dress," said Chanel. "Dress impeccably and they remember the woman... It's best to be as pretty as possible for destiny."
It takes 30 seconds to make a first impression. Chanel believed that time must be filled with elegance and class. She wanted women to be beautiful so that they could become someone and to do something important.
Never Give Up
During the World War II Chanel had to shut down her fashion business, but she never lost faith in herself. Despite having to overcome her age and her ruined reputation, she was able to make a comeback in the industry at the age of 71. She reinvented her designs and made her company a leader once again.