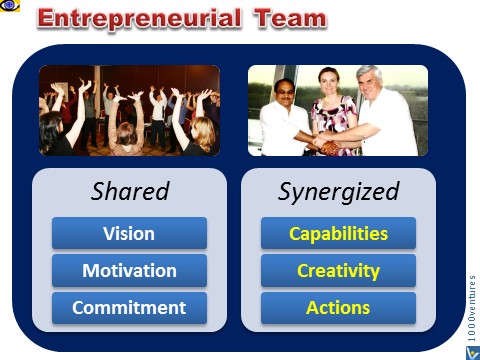 → Entrepreneurial Leader: 4 Attributes

→ Winning Team: 7 Elements

Two Specific Factors that Influence the Performance of an Entrepreneurial Team
① → Venture creation is a novel, experimental and mostly unstructured and intuitive task. A team creating a breakthrough solution is venturing in an uncharted territory and has to forge a new path in the jungle full of unpredictabilities and enemies. >>>
→ 10 Commandments of Innovation

② Turbulent, change-resistant and often hostile external environment has a direct and great influence on venture performance.
→ How To Discover Opportunities
How To Build Specific Features of a Winning Entrepreneurial Team
Synergized Diversities: while some homogeneity must exist for the entrepreneurial team to function, it is heterogeneity and → synergized diversities that help the team demonstrate superior performance, especially in turbulent environments and markets. A heterogeneous team can create innovative synergies and make more comprehensive decisions by considering more options for action.