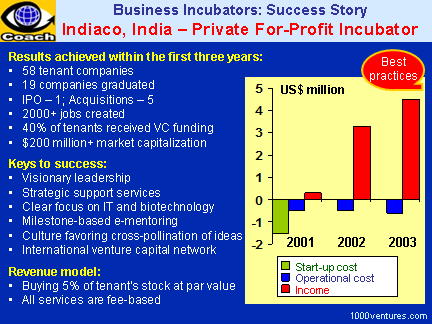 Background Information
Private business incubator, funded by the founder's family

Established in January 2001

Corporate mission – to assist entrepreneurs plan, prototype, market, launch innovative products and services and therein build successful companies.
Key to Success
Entrepreneurial experience of the Founder – Rahul Patwardan, CEO & President of Indiaco, established 8 firms and 2 venture capital funds in India and the United States.

Visionary leadership – Rahul Patwardan, CEO has a great vision going beyond the borders of his incubator; he also conducts theoretical research in the field high-tech entrepreneurial development and constantly benchmarks Indiaco against other best incubation practices in the world.

Advantageous location – a wealth of IT and biotechnology talents

Milestone-based e-mentoring – Indiaco established an Intranet for its tenants and developed a milestone-based e-mentoring tool that guides tenants companies through various stages of their start-up venture development process.

Provides tenant companies with access to venture funding

Indiaco invests in its tenants through buying 5% of their stock at par value

Indiaco established a club of business angels and venture capital firms from India and the United States and interfaces between its tenant companies and investors

Most promising technologies are patented in the United States.

Standardized communication interfaces – facilitates convenient internal and external communication.
Holistic Approach to Building Companies
Creating an Ecosystem Helping Tenants to Excel
Indiaco's approach works like 5 basic elements of nature:
Earth – functions as the root, ground, or source within each phenomenon, solidity

Water – entails flow, continuity, penetration

Fire – entails life, heat, activity, clarity of the mind

Air – depicting change, movement, maturity, life supporting

Space – intelligence, communication, formlessness, and creative potential
Selecting Tenants: Considerations for Entry
Is the technology compelling?

Is there a large and growing market for the technology?

Is the lead entrepreneur "coachable"?

Does the incubator have the capability to help the company?

Does the management of the incubator like company leaders and will they add to the positive environment at the incubator?
Indiaco – a Business Incubator with a Difference
Indiaco was established in 2001 as a private equity investment firm that invests in hi-tech start-up's in India that can access global markets.
Indiaco's mission is to assist entrepreneurs plan, prototype, market, launch innovative products and services and therein build successful companies.
By 2004, IndiaCo was recognized by various multilateral agencies and won support from the World Bank and the Department of Science & Technology, Government of India
Indiaco's investment strategy hinges on its ability to invest value added capital through providing early stage hi-tech start-up ventures with operational support and infrastructure, management support and coaching, and access to a network of service providers, vendors, customers and next stage investment capital resources.
Indiaco has build its core competencies in supporting web-based eServices, enterprise software and hardware products, as well as in bio-medical devices, drug development and delivery, bio-informatics as well as other technology based growth areas where intellectual property is a key measure of competitive advantage.
Indiaco is a symbiotic constellation of start-ups, R&D organizations, investors and service providers to the Hi-Tech sector.
Indiaco functions as a "venture creation engine" in addition to being a resource center and incubator for high-tech startups and early stage companies, Indiaco helps translate lab research into consumer products and provides an infrastructure and network to support entrepreneurs.
Indiaco marries entrepreneurs and technology to build companies and commercial products, and provides a mechanism for major corporations and government laboratories to spinout technology.
Indiaco operates a series of incubating clusters (Indiaco iCenters) that help entrepreneurs reduce their costs, exposing them to a network of industry and academic contacts, providing advisory support and a structured business growth roadmap.
Achievements After 2 Years in Operation
Located in India, US, Australia, and Chile

Invested in 37 tenant companies

40,000 SqFt of commercial space, with internet bandwidth, plug and play offices.

Helped tenant companies raise over Rs.35 crores (US$7 million) in private equity

Venture Financing Funnel

Venture Financing: Key Documents
Generated over Rs.200 crores (US$40 million) in market capitalization

Provided employment to over 800 professionals

1 IPO, 4 acquisitions
Services Provided To Tenant Companies
Virtual programs available consisting of the full gamut of coaching and advisory services, including the use of all conference rooms, equipment, and temporary office space.

Office space available at one of our Indiaco facilities

Mentoring and advise from a team of experts in the Indiaco's Advisory Program.

Unmatched referral network of high-level Silicon Valley resources to help you make the right connections to achieve your goals Personnel services

In-house general counsel and law group

In-house Marketing Communications services including the creation and maintenance of:

Company and product branding

Logo and corporate style guides

Marketing collateral design and copywriting websites

Public relations and media assistance

Advertising campaigns

Direct mail and email marketing campaigns.

Use of any of conference rooms
Programs to ramp up your development or launch:
Venture Showcase – helps you fine-tune your presentation before experts from the industry.

Referral Program – introductions to the right people & services.

Free Legal Clinics – get the advice you need. Venture Fairs – meet with potential investors.

Founders Forum – exchange ideas with local CEOs.

Student Interns
Contact Details:
Rahul Patwardhan
President & CEO
Indiaco.com (P) Limited
Indiaco iCenter, 214 LBS Road , Pune 411030 , India
Tel:091-20-402-1357,091-20-402-7155,Fax: 091-20-433-4978
Email: rahul@indiaco.com
URL: www.indiaco.com