Contents
1. Strategic Management: Two Approaches
The Tree of Business See the slide
Corporate Vision See the slide
Three Hierarchical Levels of Strategy
Strategy Pyramid vs. Strategy Stretch
Choosing Between Strategy and Opportunity Approach
Strategic Programming Model for Stable Environment
FutureStep: Strategic Management for Adaptive Organizations
Business-level Strategies: Four Categories of Business Tactics
Strategy Programming vs. Strategy Innovation
2. Strategy Schools: An Overview
Correlation Between the Ten Dominant Strategy Schools
Positioning School: "The Art of War" by Sun Tzu
"The Art of War": Planning
Porter's Models
Blue Ocean Strategy vs. Red Ocean Strategy See the slide
Resource-based Model
3. Environmental Analysis
Three-level Business Intelligence System
The Tao of Strategic Analysis
Lessons from Jack Welch: 5 Questions To Answer
Managing Business Evolution
Framework for Describing the Strategic Situation
Competitive Analysis
4. Strategy Formulation
Creating Sustainable Profit Growth: 9 Questions To Answer
Balancing Outside-In and Inside-Out Strategies
3 Strategies of Market Leaders See the slide
Lessons from Jack Welch: Articulate Your Vision
Strategic Intent
Discovering Strategic Opportunities
Organizing Rapid Opportunity Search
SWOT Analysis
Competitive Strategies: Survival vs. Market Leadership See the slide
Sustainable Competitive Advantage: The 5 Criteria
Sustainable Competitive Advantage: A Synergy of Capabilities See the slide
Multifactor Business Portfolio Matrix
Three Generic Business Strategies
Four Types of Marketing Warfare: The Strategic Square
Erecting Barriers To Entry
Differentiation Strategies
Strategic Brand Management
Corporate Continuous Innovation Strategies
Lessons from Silicon Valley Firms: Using Innovation Portfolio
Strategic Alliances
Lessons from Toshiba: Alliances as a Key Element of Corporate Strategy
5. Strategy Implementation
Major Impediments To Strategy Implementation
Balanced Business Systems Approach See the slide
Strategic Leadership
Strategic Motivation
Lessons from Jack Welch: See Change as an Opportunity
Strategic Project Management (SPM)
Milestone-based Thinking
Performance Management: Balanced Scorecard
Leading-edge Three-tier Reporting Model
6. Strategic Achievement & Strategy Innovation
Dynamic Planning
What is More Important: Plan or Planning?
Lessons from Silicon Valley Firms: Dynamic Strategy Formulation
Fast Decision Making: Establishing Corporate Guiding Principles
Strategic Achievement
Strategic Thinking: 3 Key Characteristics
Strategic Thinking: 7 Principles
80/20 Strategic Thinking
Strategic Problem Solving
Lessons from Jack Welch: Stretch! See the slide
Launching a Crusade
Need for Strategy Innovation
Strategic Organizational Learning
The Four Steps of the Strategy Innovation Process
Learning SWOT Questions
Sample Smart & Fast Lessons
Slide + Executive Summary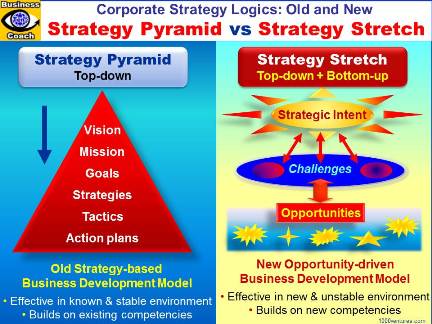 Instead of Introduction
For the vast majority of companies, having well-defined visions and mission statements changes nothing. The exercise of crafting them is a complete waste of time and talent if visions and mission statements are used for nothing but being published in the annual report and displayed in a reception area. To be able to energize employees to work towards corporate goals, visions and missions should be more than a sign on the wall. Executives and managers should live them, be seen living them, and constantly communicate them to their employees.
Vision
Vision is a short, succinct, and inspiring statement of what the organization intends to become and to achieve at some point in the future, often stated in competitive terms. Vision refers to the category of intentions that are broad, all-intrusive and forward-thinking. It is the image that a business must have of its goals before it sets out to reach them. It describes aspirations for the future, without specifying the means that will be used to achieve those desired ends.
Mission Statement
A mission statement is an organization's vision translated into written form. It makes concrete the leader's view of the direction and purpose of the organization. For many corporate leaders it is a vital element in any attempt to motivate employees and to give them a sense of priorities
Setting Goals
The major outcome of strategic road-mapping and strategic planning, after gathering all necessary information, is the setting of goals for the organization based on its vision and mission statement. A goal is a long-range aim for a specific period. It must be specific and realistic. Long-range goals set through strategic planning are translated into activities that will ensure reaching the goal through operational planning.
Strategic Intent
A strategic intent is a company's vision of what it wants to achieve in the long term. It must convey a significant stretch for your company, a sense of direction, discovery, and opportunity that can be communicated as worthwhile to all employees. It should not focus so much on today's problems but rather on tomorrow's opportunities.
... and much more!