1. Introduction to Leadership
Above All, Leadership Is About...
The Ideal Leader
Effective Leader: Attributes x Results
Leadership Lessons from Jack Welch: Lead
Leader 360
Self-Leadership
Differences Between What Managers and Leaders Do
2. Leadership Lessons
12 Major Causes of Failure in Leadership
12 Effective Leadership Roles
Leadership Challenge Model: 5 Exemplary Roles
Leadership Lessons of Lao Tzu
Leadership Lessons of Xenophon
Leadership Lessons from Jack Welch: 4Es of Leadership
Powell's Leadership Principles
3. Leadership Attributes and People Skills
Leadership Attributes: What Leaders Are, Know, and Do
Leadership Lessons from Jack Welch: Articulate Your Vision
Leadership Lessons from Jack Welch: Make Everybody a Team Player
Team Building: a Dream Team
7 DOs and 7 DON'Ts of Lateral Leadership
The Tao of Influencing People
Leadership Lessons from Jack Welch: Energize Others
Effective Communication: Understand People's Perceptions
Understanding Cultural Differences
Yin and Yang of Cultural Intelligence
Coaching Yourself
4. Leadership Styles
Leadership Schools: Correlation
Inspirational Leadership: 10 Roles
Values-based Leadership
Principles-centered Leadership
Situational Approach To Leadership
Situational Leadership: Continuum
Creative Leadership
How To Lead Creative People
Loose-Tight Leadership
Entrepreneurial Leader: Specific Attributes
SuperLeadership
Lateral Leadership
Leading Up
5. Delivering Results!
Be Different and Make a Difference!
Success Story: Jack Welch
Results-based Leadership
Strategic Leadership
Leading Innovation: Making the Vision a Reality
Leadership Lessons from Jack Welch: See Change as an Opportunity
NLP Technology of Achievement: Start Change With Yourself
Making Big Changes: 10 Questions to Answer
The Tao of Change Management
Change Management: 6 Steps
Change Failure: Main Reasons
Leading Change: 8 Stages
6Ws of Change Management
Every slide is provided with a half-page executive summary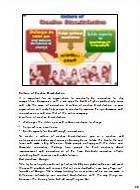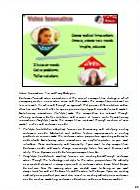 Teach
more
in less time!
Sample Lesson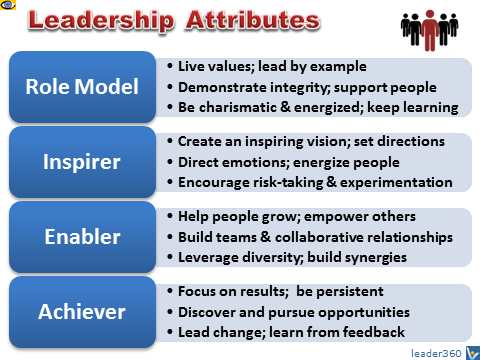 Leaders Attributes Defined
Leadership attributes are the inner or personal qualities that constitute effective leadership. These attributes include a large array of characteristics such as values, character, habits, traits, competencies, motives, style, behaviors, and skills.
Three Categories of Leadership Attributes (The ARE-KNOW-DO Model)
Who leaders ARE: character and personality, values, motives, abilities, traits, commitment, honesty, courage, imagination.

What leaders KNOW: competencies (knowing yourself and others, leadership theory, professional knowledge) and skills (people skills, leadership skills, professional skills)

What leaders DO: habits, behaviors, styles, leading by example
Key Elements of Leadership Attributes
Most of the leadership attributes cluster into four overarching categories of what you need to be, know, and do:
Demonstrate personal character;

Set directions;

Mobilize individual commitment;

Engender organizational capability.
Pitfalls of the Leadership Attributes Model

Though leadership attributes models, in particular the ARE-DO-KNOW approach, received enormous attention in the past, they have a number of pitfalls. In particular, they reduce leadership improvement to development of leader's attributes only. Results are not emphasized.


Instant download

Buy today


and
start your leadership trainings tomorrow!