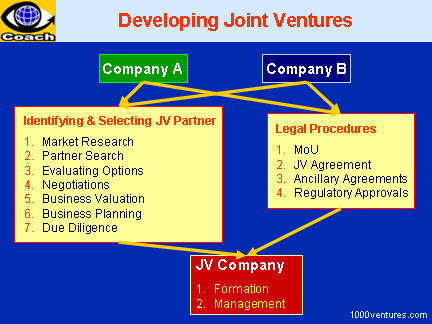 According to a recent survey, only 44% of

CEOs of JVs characterized their venture as "very successful".

The most common causes of failure cited by CEOs are:

... More
Factors To Be Considered
screening of prospective partners

joint development of a detailed business plan and shortlisting a set of prospective partners based on their contribution to developing a business plan
due diligence - checking the credentials of the other party ("trust and verify" - trust the information you receive from from the prospective partner, but it's good business practice to verify the facts through interviews with third parties)

development of an exit strategy and terms of dissolution of the joint venture

most appropriate structure (e.g. most joint ventures involving fast growing companies are structured as strategic corporate partnerships)

availability of appreciated or depreciated property being contributed to the joint venture; by misunderstanding the significance of appreciated property, companies can fundamentally weaken the economics of the deal for themselves and their partners.

special allocations of income, gain, loss or deduction to be made among the partners

compensation to the members that provide services

Wise Agreement
Choosing a JV Governing Structure
There are three possible JV governance arrangement: full equality; policy equality, and lead parent arrangement... More
Preparing for a Successful JV: HR Action Steps
As Konosuke Matsushita the legendary founder of Panasonic, put it, "Business is people. Business success is achieved by getting each and every person in the organization to be more successful in the job they do... More
The Role of the Business Architect
Business Architect is a person that initiates new business ventures or leads business innovation, designs a winning business model, and builds a sustainable balanced business system for a lasting success.
Business architects can be found in a multitude of business settings: corporate change leaders, initiators of joint ventures, managers of radical innovation projects, in-company ventures, spin-outs, or new start-up ventures.
Although the settings in which business architects act are different, they all design and run a new venture to achieve its sustainable growth.