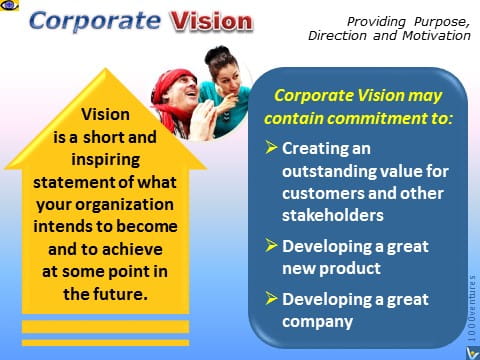 1. Visionary and Daring Growth Strategies
Has developed and communicated a clear, simple, customer-focused Vision / direction for the organization... More
Importance of an Inspiring Vision
Corporate vision is a soul of your corporate strategy and a guiding star for your people. It inspires people, provides purpose, direction, and motivation.
The purpose of articulating a coherent vision of a desirable future in which your organization could thrive is to focus your organization and your partners on those things you could now to bring that future state about. An inspiring vision is a key element of an → Inspiring Culture

.
Creating a Company Vision
Corporate vision may contain commitment to:
The Vision of the → Business e-Coach, is "To inspire → innovation

and help people and companies create a more exciting world." >>>
Silicon Valley leaders keep stretch in their vision and communicate purpose and direction consistently and within multiple contexts. They keep linking the events of today to their vision, underscoring the relationship between the two keep people motivated and focused... More
| | | |
| --- | --- | --- |
| | Company's vision must be driven by the aspirations of its customers... More | |
I know it sounds corny,

but I'd love to improve people's lives, especially socially.
| | | |
| --- | --- | --- |
| | Mobilize your people around a common goal. Help them feel a part of something genuine, special, and important... More | |