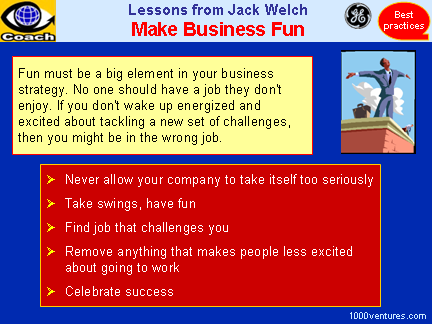 → Entrepreneurial Creativity: Yin and Yang

→ Inspiring People: 4 Strategies
A Few Things You Can Do To Have More Fun at Work3
Make informality a way of life

Find a job that challenges you

Don't stay in the same job forever
Google's 10 Guiding Principles
You can be serious without a suit. Google's founders built the company around the idea that work should be challenging, and the challenge should be fun. They put great stock in their employees – energetic, passionate people with creative approaches to work, play and life... More
→ 3 Strategies of Market Leaders
Enlightened 21st Century Organization Quiz
Inspirational and Empowering Leadership Roles
A Big Element of Your Business Strategy
What made you go into business and succeed in the first place? Was it fun and passion? Similarly, if you lose your passion or drive you're going to lose business.

As business today is about passion and winning and creating new things, fun has become a big element in the business strategy of many highly successful businesses. People are unlikely to be creative if they don't like their own company, and vice versa. "Nobody motivates today's workers. If it doesn't come from within, it doesn't come. Fun helps remove the barriers that allow people to motivate themselves," says Herman Cain. >>>
No one should have a job they don't enjoy. "If you don't wake up energized and excited about tackling a new set of challenges, then you might be in the wrong job," says Jack Welch.
Innovation Must Be Fun
How important Is fun to innovation? Humor and fun at work are no longer optional, but critical to building an inspiring and engaging workplace which drives innovation and team performance. Many innovative companies adopted fun as one of their core values or guiding principles to lighten things up.
→ The Jazz of Innovation: 11 Guiding Principles


"Hackathon" at JotSpot
"My sense is that innovation can, in reality, get quickly lost in a start up ‒ especially once that startup is launched," says Joe Kraus, Founder of JotSport.7 This happens because the company is short staffed and the company is trying to get customers in as many ways as possible that it's very easy to squeeze innovation out of the system and instead get focused exclusively on customer-driven development. You go from a company with a lot of great ideas and big visions, to a company with a year-long roadmap and no real sense of "I-came-up-with-this-great-idea-which-I-built-over-the-weekend-and-look-how-cool-it-is".'
What can help startups stay innovative? The answer of Joe Kraus: Have fun!... More
Silicon Valley

Do you really want to know what is deep inside, at the core of Silicon Valley and what makes is tick?

"The truth is ... it's a ball! Hard work combined with hard play – at every level, from executive down and back up again." People don't only work hard, but also have a lot of fun at the same time. And they are not just having fun, but planning it and making it part of their culture. This is the spirit that truly enables relentless innovation and creates innovation-adept culture... More

Wall-Mart
In his 10 Rules for Building a Business Success, Sam Walton, the Founder of Wall-Mart advices: "Find some humor in your failures. Don't take yourself so seriously. Loosen up, and everybody around you will loosen up. Have fun. Show enthusiasm – always. When all else fails, put on a costume and sing a silly song. Then make everybody else sing with you. Don't do a hula on Wall Street. It's been done. Think up your own stunt. All of this is more important, and more fun, than you think, and it really fools competition. "Why should we take those cornballs at Wal-Mart seriously?"... More
David Kelley, the founder of IDEO, the world's leading new product design company, believed that if he hired people he liked and respected, everybody would have fun and more work done... More
Making Your Customers Laugh

→ Surprise To Win: 3 Strategies

Why would people want buy from you if they don't enjoy doing so? Making what you have to sell fun to buy is simply taking the whole process one step further. "If you can make your customers laugh, and excite them with your vision of what life can be, they are not going to walk into your outlets, but run into them. Running a successful business should be fun for you, and there's every reason why you should be able to communicate that sense of fun to your customers. Certainly, if you aren't having fun, you probably aren't running a successful business."1