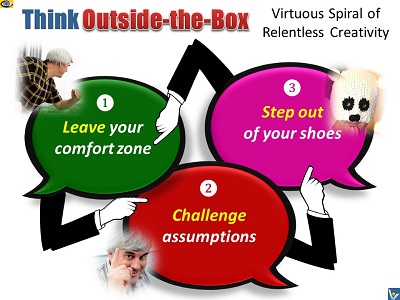 The "Box"

a Collection of Two Sets of Interactive Mental Models1

External to you

Internal to you

Shared

Individual

A universally accepted model providing the context for understanding and decision-making in a particular field

The way you think
and
what you think about

Caterpillar's Syndrome
A very unusual experiment was conducted by John Fabre, the French naturalist, consisting of processionary caterpillars, a type of caterpillar that blindly follows the one in front of it.5 This explains the name processionary caterpillar. The experiment consisted of several of these caterpillars, a flowerpot filled to the rim with dirt, and pine needles.
The caterpillars formed a complete circle around the rim of the flowerpot, with the first one touching the back of the last one. The pine needles, the food of the processionary caterpillar, were placed in the center of the circle.
The caterpillars began their procession around the flowerpot, one following the other in a circle. This went on hour after hour, day after day, for an entire week. In the end, every one of the caterpillars dropped dead of starvation.
The one thing that could have saved them was only six inches away, but without purposeful thought or action, the caterpillars continued with a habitual routine that eventually proved too much to endure.
This is happening to people, too.
Innovation Quotes
The Framework for a Growth Strategy: 4 Rules
By: Ram Charan and Noel M. Trichy