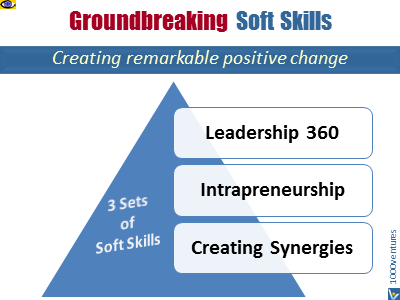 Leader 360
As a groundbreaking leader 360, you must first lead yourself towards stretch goals and breakthrough achievements. Further, you must be an inspiring leader for others around you, lead positive change and demonstrate appropriate interpersonal skills. A business leader 4.0 must also know how to lead in a rapidly changing chaotic environment and master the skills of an Entrepreneurial leader, an Innovation leader, a Creative leader, and, when required, an Extreme leader.
Intrapreneurship
Intrapreneurs take initiative to create positive change and innovation, demonstrate entrepreneurial creativity, discover and pursue opportunities, take risk, experiment with new ideas, turn failures to steps to success and spin-off opportunities, and ultimately create breakthrough innovative value for the business, its customers and other stakeholders.
Intrapreneurship includes individual intrapreneurial attitudes and skills, intrapreneurial leadership, intrapreneurial teamwork, and intrapreneurial implementation of proactive, sometimes radical, change projects and initiatives.
Creating Synergies
The forth industrial revolution (Industry 4.0) made interdisciplinary synergy innovation the main source of business growth. Masters of Business Synergies (MBS) who can synergize capabilities, resources, diversities, functions, and innovations are in growing demand.