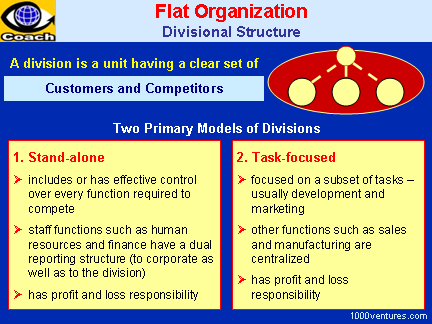 → The Jazz of Innovation: 11 Guiding Principles

Why Divisional Structure?
When organizations get large, they become slow, awkward, unmanageable, inflexible, and difficult to focus. They distance people from each other, and consume more energy than they release.
Division is a business unit having a clear set of customers and competitors. A division can be independently planned for within the organization and has profit and loss responsibility.
Building an Innovation-friendly Organization
Hierarchy and over-management are an obstacle to innovation... More
Leaders of successful high-growth companies understand that innovation is what drives growth, and innovation is achieved by awesome people with a shared relentless growth attitude and shared passion for → creative problem solving and for turning ideas into realities.
Companies that continuously → innovate

will create and re-invent new markets, products, services, and → business models – which leads to more growth. Innovation is founded on your enterprise's ability to recognize market opportunities, your internal → capabilities to respond innovatively, and your knowledge base... More