Employees with Higher Job Satisfaction:
believe that the organization will be satisfying in the long run

care about the quality of their work

create and deliver superior value to the customer

are more committed to the organization

have higher retention rates, and

are more productive
Developing The Fast-Paced Flexible Culture
By: Michael Dell

Inspiring Culture: 5 Elements
Facilitate Personal Growth. Cultivate commitment to personal growth. Success isn't static – and your culture shouldn't be either. Pay attention to what your best people are achieving, and build an infrastructure that rewards mastery. The best way to keep the most talented people is to allow their jobs to change with them. Sometimes, reducing their responsibilities will give them the space to tackle new opportunities and to expand – and your business will expand too... More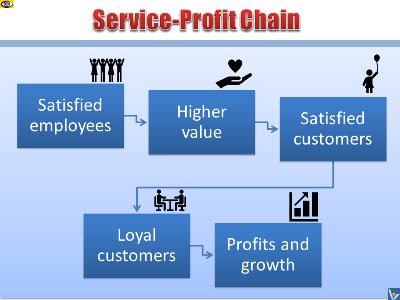 Why Employee Satisfaction?
Retaining and finding the best staff is becoming harder and harder. Positively influencing staff is one way to develop an environment and culture where people want to do their best and want to stay.
Success comes through people. If you understand what motivates people, you have at your command the most powerful tool for dealing with them to get them achieve extraordinary results.

Inspiring People: 4 Strategies
"When companies are effective in satisfying their employees, employees stay longer, make a deeper commitment to the business, recommend ways to improve the company's products and services, and work harder to satisfy the customer," says Mark Stevens.1
"In almost every survey of factors that motivate employees in the workplace, job satisfaction is at or near the top of the list, far surpassing pay and benefits."2 Creating a work environment that encourages rapid response to customers' needs and attentive follow-through is the key to leveraging the power of your service-profit chain. This is only possible when people are empowered to make decisions and are motivated to solve problems. Encourage employees to go beyond the literal boundaries of their jobs – to make suggestions for improvement – and you will gain not just a part, but the full potential of their contributions to the business.

Yin-Yang of Employee Empowerment
The Power of Recognition
There is ample research to show people are more motivated by recognition than money. Despite this "it is rare that a business has a systematic process for thanking staff let alone some other accomplishment above and beyond. Simple fact many of the coming X and Y generation won't put up with coercion and fear tactics to keep a job. They will seek out work places that are positive, productive, able to learn new skills and enjoyable. In short Employers of choice or "Good Boss"™ environment."5
Reward Systems
The greatest management principle is that the things that get rewarded get done. The only way employees will fulfill your dream is to share in the dream. Reward systems are the mechanisms that make this happen... More
The Fun Factor – a Big Element of Your Business Strategy
As business today is about passion and winning and creating new things, fun has become a big element in the business strategy of many highly successful businesses.
No one should have a job they don't enjoy. "If you don't wake up energized and excited about tackling a new set of challenges, then you might be in the wrong job."3... More
"Some data show the quality of the relationship between boss and subordinate is a major predictor of intentions to remain," says Davis Fitzhugh, professor of business administration at Harvard University. "Coaching, which can help managers talk with subordinates about their developmental needs, absolutely affects the relationship positively. And that's a big payoff." 4
A study of 100 executives made by Manchester Inc. showed that a combination of change-oriented coaching and growth-oriented coaching resulted in an average return on investment of 5.7 times the initial investment, with a myriad of specific improvements. For example, customer service improved 39%, bottom line profitability increased 22%, working relationship with direct reports improved as reported by 77% of executives, and job satisfaction soared 61%... More
Quick and Easy Kaizen
Quick and easy Kaizenis aimed at increasing productivity, quality, and worker satisfaction, all from a very grassroots level.

Kaizen Mindset
Every company employee is encouraged to come up with ideas – however small – that could improve his/her particular job activity, job environment or any company process for that matter. The employees are also encouraged to implement their ideas as small changes can be done by the worker him or herself with very little investment of time... More